The figures on the number of women in the UK who have suffered female genital mutilation are radically out of date, meaning the problem could be far worse than feared, campaigners say.
The Home Office has agreed to fund a new study into the number of women living in the UK who have been "cut", usually abroad, in order to identify girls vulnerable to FGM.
Equality Now told HuffPost UK they had lobbied the government for more than a year on the issue. The last set of figures were released in 2007, but based on analysis of the 2001 census, so more than a decade old.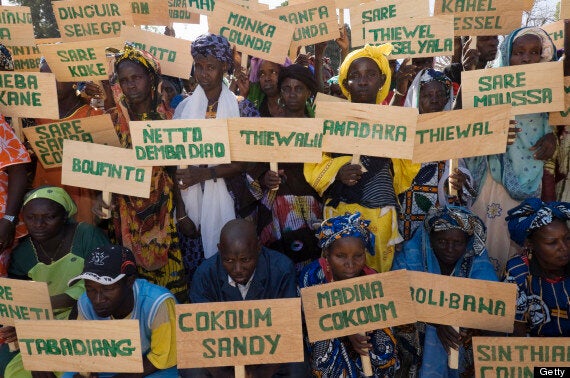 Representatives from 210 villages meeting up for demonstration against child and enforced marriage and female genital mutilation in Senegal
More than 30 million girls are at risk of FGM over the next decade, a study by Unicef reported this week, with more than 125 million girls and women who have undergone the procedure now opposed.
The ritual cutting of girls' genitals is practised by mainly African, and also some Middle Eastern and Asian communities, who believe it protects the sexual purity of girls.
No-one in the UK has every been prosecuted under the law which bans FGM.
A Home Office spokesperson told HuffPost UK: "There is no justification for Female Genital Mutilation — it is child abuse and it is illegal.
"We have agreed to help fund a new study into the prevalence of FGM in the UK. FGM is a key focus in our cross-Government action plan for tackling violence against women and girls and we are working with the Department for International Development and Department for Health to stamp out this abhorrent abuse.
"This crime has no place in our society. Political or cultural sensitivities must not get in the way of preventing FGM and finding and convicting those who carry it out."
The study will begin in October and will conclude by April 2014.
Equality Now's Efua Dorkenoo told HuffPost UK that the 2007 figures were compiled by looking at census data and maternity data on the nationality of women, and extracting a statistical model based on the prevalence of FGM in their country of origin.
In Somalia, 97% have had their clitorises removed.
"There is increased migration from countries where FGM is widely practiced, so we believe the figures could rise," she said. "The number of women from FGM practicing groups living in this country has also increased."
"We look at the women who have been affected, and then look at the children born to these women to identify those at risks.
"For any issue, we need data to inform our policy. Otherwise this very serious issue will continue to be a marginalised issue. Local authorities have no data have no data on numbers of people affected and it does not get to be part of any work they are doing.
"Resources will not go into health, education on this issue, because there's no data. If we give them the information, local authorities can start doing targeted advocacy work with communities who might practice FGM."
Equality Now and Daughters of Eve are also calling on the Home Office to implement a national action plan on the issue, via an online petition.
Related