Google has announced its follow-up to the Nexus 7 tablet at a press conference in San Francisco.
The 2013 Nexus 7 has an HD screen, a 5-megapixel rear camera and is the first device to run the new Android 4.3 Jelly Bean software.
Android and Chrome chief Sundar Pichai made the announcement, saying the new device addressed the growth of tablet devices among consumers.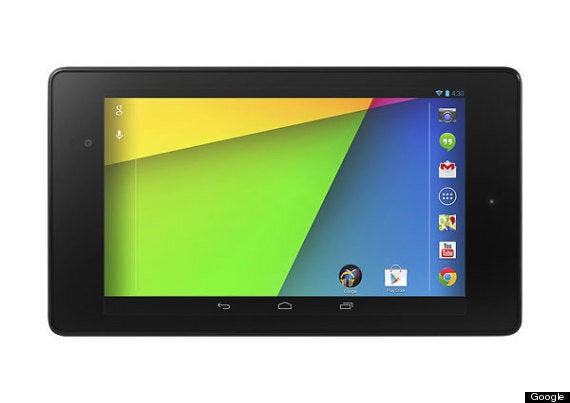 The tablet features a higher-resolution screen, adds a 5-megapixel rear camera and an improved processor, and runs a slightly updated version of Android.
Google said it will launch in the UK "in coming weeks". It will first hit the US at just $229 for the 16GB wifi model.
2mm thinner, has front-facing speakers to improve the audio with "virtual surround sound" technology, and the same 'soft touch' feel as the original Nexus 7.
comes with either 16GB or 32 GB of internal storage, powered by a quad-core 1.5Ghz Qualcomm Snapdragon Pro processor, 2GB of RAM and an Adreno 320 graphics chip.
Nexus 7 will have a thinner side bezel and a 323ppi, 1920x1200 pixels display, but will otherwise look virtually identical to the previous tablet.
Google said the CPU is 80% faster than the 2012 Nexus 7, while the graphics performance should be vastly improved.
The original Nexus 7 was a critical and commercial hit after its release in summer 2012, reaching a wide audience thanks to its basic, stock Android OS, low price point and lightweight, attractive hardware. It now accounts for more than 10% of all Android tablet sales.
The new Nexus 7 is the first device to ship with Android 4.3 Jelly Bean.
The updated OS adds features including:
Restricted Multi User profiles, which means you can control access to apps and services at a user level - say, which of your kids can access which apps
Support for Bluetooth Smart, or low-energy Bluetooth
Updated support for Open GLES 3 3D graphics
The small HDMI dongle is just two inches long, and allows users to stream video and audio from any device to your TV - even turning the TV on and switching it to the right input, automatically.