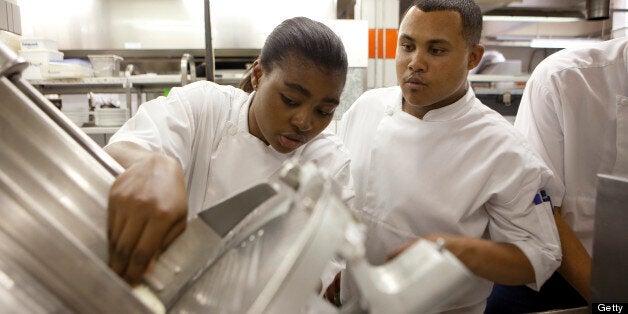 Apprenticeships are for males and less-able students, according to many parents, whose knowledge has been described as "incomplete and archaic".
Many parents have misconceived ideas about apprenticeships, with nearly 44% of parents saying they felt well enough informed about education and training to help their child make decisions on their future, according to a survey. The rest said they were either not prepared, or not sure, the poll, which highlights worrying gaps in knowledge, revealed.
Despite a government drive to make apprenticeships the "the new norm", around half of parents (48.1%) believed the courses are more geared towards boys than girls, while nearly a third (32.4%) supported the statement that apprenticeships are for less academically able children.
Jane Scott Paul, chief executive of Association of Accounting Technicians (AAT), which commissioned the poll, said: "We have a long way to go to change parents' views on higher apprenticeships and this is especially important because parents have a big, if not the biggest, influence over their child's future.
"Half of parents think they are well informed about the various options out there for their children, but our research clearly suggests otherwise."
Priscilla Ossai, a technology apprentice at Sky, explained why she chose learning on the job over "a life in the library". "Coming from a background where it was really 'the only way is... university', I originally saw that as the best route to a dream job in one of the best industries," she says.
"But now, I've been given a real opportunity to jump start my career in an exciting industry, working in a great company."
Scott Paul added: "Apprenticeships are being overlooked because parents' knowledge is incomplete and based on archaic stereotypes. While parents recognise the imperative value of workplace experience, they don't know that higher apprenticeships are a high-quality route to getting that vital experience. Alternative options for young people will only become sought after when we change perceptions and this starts with the parents."
More than half (55.4%) said they did not know whether a higher apprenticeship was the same level of qualification as a degree, with fewer than one in five (18.6%) correctly saying that it is.
Two-fifths of the 1,200 parents questioned (41.9%) thought that a university degree was the qualification that employers rate the highest as making young people employable.
There was also uncertainty over a government aim of making apprenticeships as usual as going to university for young people.
Just one in four (25.1%) said this would happen, a third said it would not happen (33%) and the rest were unsure.
But the survey also found that three-quarters (75.6%) of parents would be pleased and supportive if their child had the qualifications to go to university, and opted for an apprenticeship instead.
Skills Minister Matthew Hancock said: "Apprenticeships are an increasingly attractive option for young people and good for our economy. So we need to get the word out there and change people's perceptions.
"We continue to promote them through the National Apprenticeship Service and through events like Apprenticeship Week, which led to a record number of online apprenticeship applications the following week