As I got on the tube this morning at Ealing Broadway station, I glanced across the road at the building on the corner, and paid a quick, quiet homage. Because this unprepossessing building was where Mick Jagger and his bandmates - yet to adopt the Stones moniker - first took to the stage in 1962, and strummed the first notes of their blues-inspired sound.
(Michele Hanson in the Guardian can do better than that - she remembers the gig, as she writes here)
Nothing so strange about that. Except the same snake-hipped frontman who swivelled and pranced around on that Ealing stage is still happily prancing, preening and peacock-posturing a half-century later, and seems to be getting better with age, according to Glastonbury's Michael Eavis, who hosted the band for the first time this year, and promptly announced them the best headliners ever - review of that gig here.
Sir Mick, still snake-hipped and singing, at 70 years young
Today sees Sir Mick reach the ripe young age of 70. Of his many, many achievements - the sales, the tours, the knighthood, the children, the iconage - arguably his most significant contribution is proving that there is always, always life in the old dog. That age need not wither, nor waste. And that, with the right amount of confidence, talent and experience, wearing trainers with a sequinned blazer is (on occasion) acceptable.
Below are seven factoids that illustrate the breadth of Jagger's life and influence. But none of them answer the real Bigger Bang question - how does he do it?! Answers on a postcard please. And when you've sorted that one out, we'll discuss the strange juice that must be running through Keith Richards' bones, a mere stripling at 69...
This is Sir Mick on stage only a few weeks ago... prancing around with the energy of a man half his age...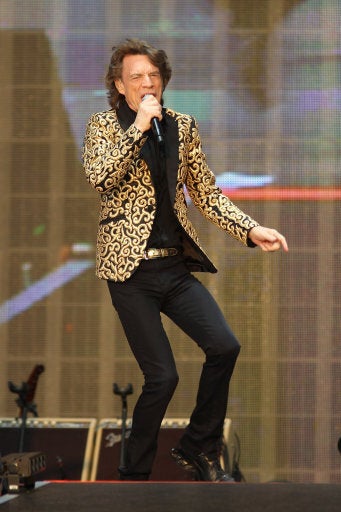 Sir Mick Jagger at 70
Mick Jagger was born in Dartford, London on this date in 1943. His mother was Australian-born and was an active member of the Conservative party. Mick was expected to follow in the career footsteps of his father and grandfather, both teachers. Before his destiny as a showman became clear, Jagger showed an early academic bent, passing 7 O'levels and 3 A'levels, and enrolling at the London School of Economics. His intention was to become either a journalist or a politician.
When Mick was convicted of possessing four pep pills in 1967, he was given the unusually harsh sentence of three months' imprisonment. He spent only one night in Brixton prison before his sentence was quashed on appeal, after a surprisingly supportive letter appeared in the Times, written by the usually conservative Lord Rees-Mogg.
The same year, Cecil Beaton took a photograph of Jagger's buttocks. This photo was later sold at Sotheby's for4,000. But his rudely healthy-tongued image was immortalised by pop artist Andy Warhol in a series of silkscreen portraits in 1975. One of his pictures ended up on a the wall of a royal palace in Tehran, after it was bought by Farah Diba, wife of the Shah.

ON THE BLOG: Why Is This Band So Special? One Longtime Stoner Explains...

A group of Hells Angels planned to kidnap Jagger in 1975, after he blamed them for crowd violence at earlier event. They plotted to steal him away from his residence in Long Island, New York, but the plot failed when their boat nearly sank in a storm.
He auditioned for the role of Frank N Furter in the film version of 'The Rocky Horror Picture Show', but the part went to Tim Curry, who had played Mr Furter on the West End stage. Two decades later, Jagger refused to appear in the film 'Pirates of the Caribbean: On Stranger Tides' despite the huge efforts of bandmate Keith Richards and star Johnny Depp to persuade him.
In an article in 2010, Richards was quoted as describing Mick Jagger as 'unbearable' during an interview for the release of his autobiography. Richards had said in an earlier interview, "I think of our differences as a family squabble."
Was he the target of Carly Simon's song 'You're So Vain'? Nobody's telling. But he is definitely the inspiration for Maroon 5's 'Moves Like Jagger' which he found "flattering".
Happy Birthday, Sir Mick!
Looking back on the Rolling Stones - 51 years and counting - in pictures...