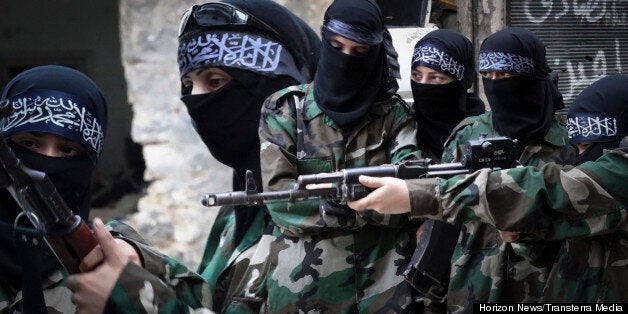 Their faces covered by black masks, bodies clad in thick camouflage and tightly holding their kalashnikovs, it is only the eyes that reveal these young Syrian fighters are women.
In the Salahaldin neighborhood of Aleppo, young women are taking to the streets as one of the few full female fighting units, calling themselves the "Al Mouminin Aisha", named after the wife of the Prophet Mohammed.
The women, many of whom are teenagers or mothers of young children, fight under the banner of the Al-Tawhid Brigade, a 13-strong unit of the Free Syria Army in Syria's largest city.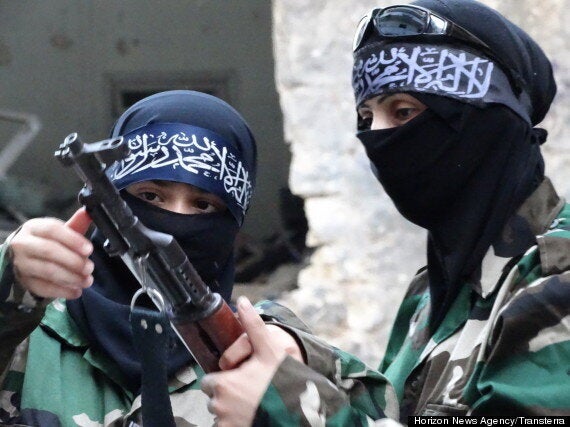 Fighters practise mounting bayonets to their kalashnikovs
One is a 17-year-old former high school senior student, wearing enormous reflective sunglasses across her mask, to shield her eyes.
They are fierce Islamists, with their leader saying her aim is for an Islamic caliphate state.
There are roughly 5,000 Syrian women involved in either fighting or military logistics for the rebels, according to the Syrian Observatory for Human Rights, a Britain-based monitoring group aligned with the opposition.
The head of this Aleppo unit, Um Mohammed, is a mother of four children and the wife of a Free Syrian Army soldier also fighting in Salahaldin neighbourhood.
She decided to take protection into her own hands and pick up a rifle in hopes of defending her neighborhood from regime attacks and crimes against women such as rape that have been on a rise since fighting began.
Um Mohammed set strict criteria for accepting new members in the female unit; any new member should be a female Muslim rebel from Aleppo who fulfills her prayers and all other religious duties and has a good reputation.
The trainer, Abu Deeb, said that the "La Ilaha illa allah" headband on each of the women's foreheads is a symbol of the fighters' commitment to Islam but Mohammed admitted she had encountered a great deal of criticism from other Islamist units of the Free Syria Army, as a female fighter.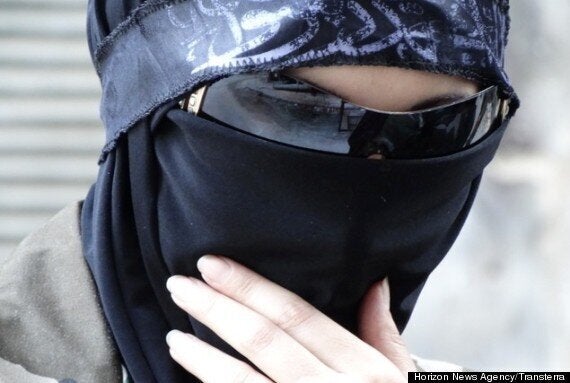 This former university student-turned-activist picked up a weapon to protect herself from attacks by the Syrian army
Calling on the Syrian government and opposition to halt the violence in the two-and-a-half year civil war, the secretary-general said its was "imperative to have a peace conference in Geneva as soon as possible."
"There is no military solution to Syria," US Secretary of State John Kerry told reporters after a meeting with Ki-moon. "There is only a political solution, and that will require leadership in order to bring people to the table."
The United States and Russia are trying to convene an international conference in Geneva, along with the United Nations, to try to agree on a transitional government based on a plan adopted in that city a year ago.
Popular in the Community