More than 800,000 British jobs are being advertised to foreign workers across the European Union on a website funded by the European Commission.
The website EURES lists a total of more than 1.4 million vacancies across the EU, with the UK making up more than 50% of them.
Foreign jobseekers are also being offered up to £900 to cover travelling costs to the UK for interviews, while UK employers can receive a £1,000 bonus for taking on a non-British worker, the Telegraph reported.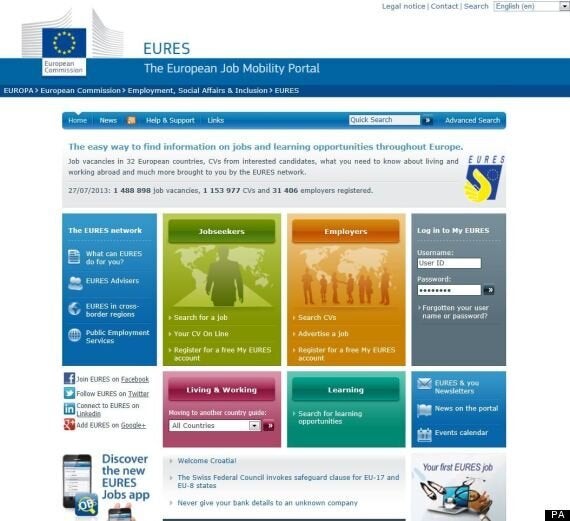 A screengrab of the jobs being advertised
It comes at a time when Conservative business minister Matthew Hancock is urging UK firms to employ young British workers rather than better-qualified immigrants.
He said firms have a responsibility to ensure young people from the communities where they are based are given the opportunity to get a job and get on in life.
All positions advertised in UK Jobcentres have to be listed on the EURES website according to an EU scheme, the newspaper added.
After the UK, which lists 814,359 jobs on the website, the country with the second highest number of vacancies is Germany with 267,534 - around 20% of the overall number.
Ukip leader Nigel Farage said he was "astonished" British vacancies were being advertised abroad at a time when unemployment in the UK is "rife".
"The fact that unemployed Brits are being pitted against 500 million people across the EU to get jobs in their own country is utterly reprehensible," he said.
"With two-and-a-half million people unemployed in the UK, of which 958,000 are under twenty-five, every job vacancy counts."
On Friday Mr Hancock told BBC Radio Four's Today programme: "During the last boom there was a lot of recruitment from abroad and, in fact, youth unemployment went up, even during the boom.
"This is about a change of culture. I'm arguing that it is companies' social responsibility, it is their social duty, to look at employing locally first."