The Muslim Brotherhood said hundreds more have been injured after security forces opened fire on protesters early on Saturday morning, reports the Guardian.
Spokesman Gehad El-Haddad said: "They are not shooting to wound, they are shooting to kill".
Story continues after slideshow...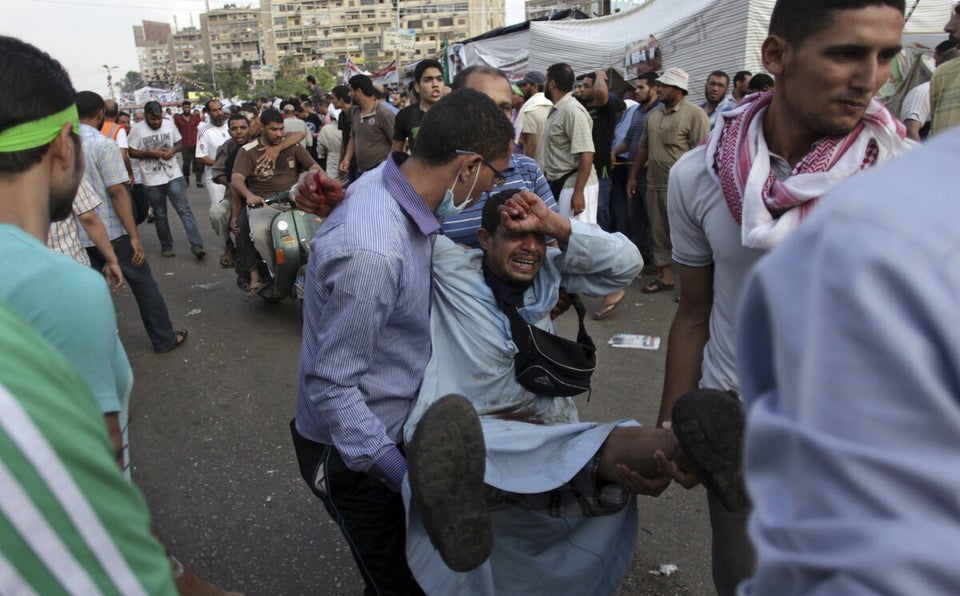 Egypt Protests
Some sources say the death toll may be as high as 120 with demonstrators claiming snipers had opened fire on the crowds.
The country has seen a number of protests in the weeks since Morsi was deposed on July 3rd.
Army chief General Abdel Fattah al Sisi had called for people to take to the streets even going so far as to cancel popular TV shows to boost numbers.
The shootings took place at a counter-demonstrations in response.
Morsi has now been formally accused of conspiring with the Palestinian militant group Hamas in plotting attacks in the 2011 Arab uprising that overthrew former president Hosni Mubarak, reports the BBC.
Morsi remains detained in an undisclosed military facility pending the investigation of his escape from jail in 2011 during that time.
There has also been around ten deaths in the city of Alexandria.
The Islamist movement has so far declined.
He said: "I am deeply concerned by recent events in Egypt, and condemn the use of force against protesters which has led to the loss of lives.
"I call on all sides to refrain from violence. Now is the time for dialogue, not confrontation. It is the responsibility of leaders on all sides to take steps to reduce tensions.
"I call on the Egyptian authorities to respect the right of peaceful protest, to cease the use of violence against protesters, including live fire, and to hold to account those responsible.
"I also call on the Egyptian authorities to release political leaders detained following the events of July 3, or charge them in accordance with the law. Such charges must be free from any suspicion that they are politically motivated.
"In our view, Egypt needs a political process that includes all groups on an equal footing leading to early and fair elections which all parties are able to contest."