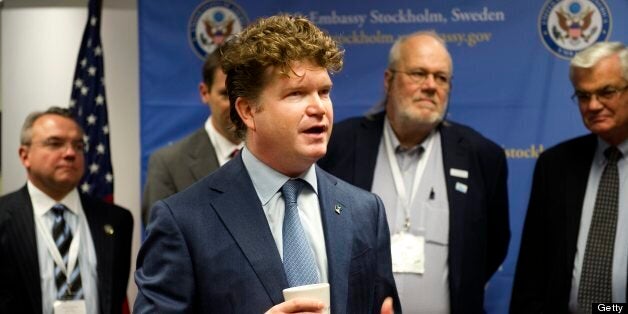 The next United States ambassador to the United Kingdom has said it is of "critical concern" that the British government does not cut back too far on its armed forces.
Matthew Barzun told senators at his confirmation hearing on Tuesday evening that he expected the UK not to ignore its Nato pledge to spend at least 2% of its budget on its military.
"We are committed to working with that strong relationship to ensure that they remain full-spectrum capability, that they remain operable with us and also that they are able to continue to lead missions on behalf of Nato," he said. "It is an area of critical concern."
Barzun made the comments in response to a question from Republican Bob Corker. The Tennessee Senator told the hearing that he felt Britain was "barely" maintaining its obligations to Nato and called on the new ambassador to be a "strong advocate" of the military alliance.
In 2011 the heads of the armed forces said cuts to the Ministry of Defence's budget would mean the UK would no longer have so-called "full spectrum" capability - the ability carry out all types of military operations. The criticism led to a rebuke from David Cameron who insisted "defence chiefs will always want more".
In his opening remarks, Barzun told the Senate foreign relations committee: "If confirmed, I will work every day to nurture and deepen this special relationship and important Nato ally.
"As the President and prime minister Cameron have said, the United States and United Kingdom count on each other, and the world counts on our alliance."
He added: "Together, the United States and the United Kingdom support democracy and freedom across the globe.Progress in these areas and others is only possible if we continue our long history of cooperation."
Senators also raised concerns about the prospect of the UK leaving the European Union. Barzun told the hearing that the he would be "deeply engaged" in the debate once he arrived in London.
"It's important to say right up front, the UK's decision to how it works with and within Europe is an internal matter for the UK," he said.
However he added he shared president Obama's view that the American interest was best served by a "strong UK voice in a strong EU".
The White House has repeatedly made it clear that it does not want to see the British public vote to leave the EU should David Cameron's proposed in/out referendum be held before 2017.
Related