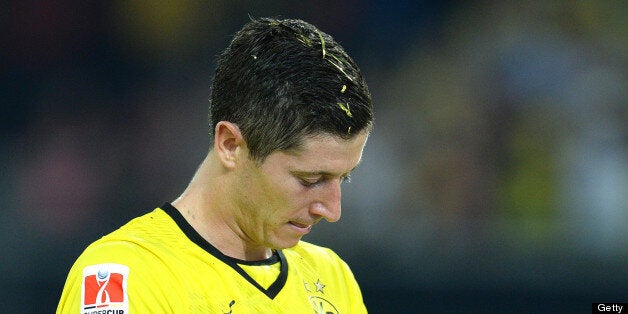 Robert Lewandowski has criticised Borussia Dortmund over his failed summer transfer to Bayern Munich.
Lewandowski, 24, will start the season with Dortmund after the club refused to sell him to treble winners Bayern.
Dortmund were determined not to lose the striker to their Champions League final conquerors so soon after Mario Götze joined the Bavarian club for €37 million.
Lewandowski started in Borussia's 4-2 victory over Bayern in Saturday's Supercup and pledged his commitment to the club on Monday. However he has since expressed his dismay to Polish newspapers FAKT and Rzeczpospolita over BVB's conduct this summer.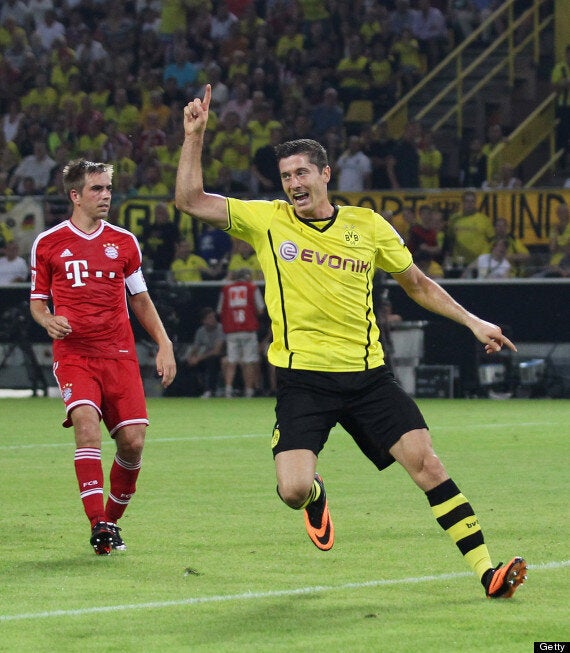 Lewandowski celebrates Daniel van Buyten's own goal on Saturday
"I always give it my all," Lewandowski said. "That they keep me is not fair."
Lewandowski told Bild earlier this week: 'I will give everything I've got for Dortmund. It does not matter what happened. I am not interested about that on the pitch.
"When I am out on the pitch then Dortmund is all I think about. I want to give it all I got and be successful."