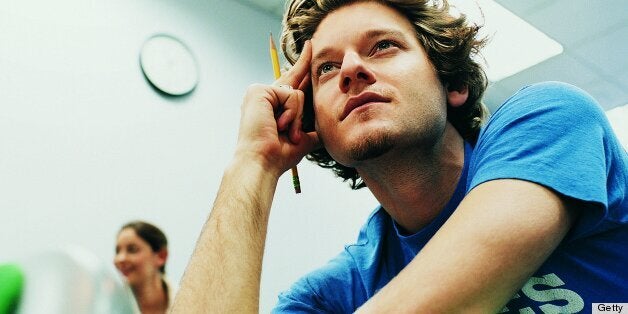 The "default" traditional university route taken by most teenagers is not enough to provide all the degree-level skills required by major industries, business leaders have warned.
The UK's young people must be encouraged to take more apprenticeships, "sandwich" degree courses that include a year in industry, shorter and part-time degrees to tackle the chronic shortage of suitably qualified workers, according to a new report by the CBI.
It says that businesses need to deal with the perception that A-levels, followed by a three-year undergraduate course is the only route to a good career.
And it calls for a university admissions-style system be set up to help people apply for vocational courses.
The report comes just weeks before teenagers across England, Wales and Northern Ireland learn their A-level results, and if they have won a university place.
Between now and 2020, the majority of jobs created will be high-skilled jobs, the report says, with nearly half of all jobs in managerial, professional or associate professional roles by this point.
To fill these positions, young people need to be encouraged to train in different ways - including vocational courses that have "long been undersold".
The CBI argues that the UK cannot rely on traditional degree courses to meet all the needs of key industries such as manufacturing, construction, IT and engineering.
"What is now seen as the 'default route' of an undergraduate degree is not suitable for all - young people have different talents and learn in different ways," the report says.
"To become informed consumers, young people need access to better work inspiration from primary school on: we should aim to inspire but also be realistic, setting out the costs and likely return on the options open to young people, including the vocational options that have long been undersold."
CBI policy director Katja Hall said: "The UK needs to vastly increase the stock of workers with higher-level skills to drive long-term growth and stop us falling behind our competitors.
"We need to tackle the perception that the A-levels and three-year degree model is the only route to a good career.
"When faced with £27,000 debt, young people are already becoming much savvier in shopping around for routes to give them the competitive edge in a tighter job market.
"Universities must be much more innovative to take advantage of the change in students' approach. And we need businesses to roll up their sleeves and expand high-quality alternative routes where degrees are not the best option for young people."
The CBI says there are signs that other education routes, such as apprenticeships, are becoming more popular, but that this progress is "patchy and inconsistent".
The number of people starting a higher apprenticeship - which is equivalent to a degree - rose by 147% between 2009/10 and 2011/12, the report says, but that overall, provisional 2012/13 figures show these courses make up less than 2% of all apprenticeship starts.
There is also still patchy understanding of student finance, not enough courses with links to business and poor careers advice for young people on the options available, the CBI says.
"Learners need access to the right information and at the right intervals to be able to make informed decisions," the report says, adding: "There are questions about whether our careers advice system is up to the task."
"Careers advice in England has never been as good as it needs to be, with vocational options long undersold as an option for young people."
Young people apply for university courses with one single application that goes through Ucas, the report says, suggesting that a similar system could be set up for vocational education.
"A single portal with information on the full range of programmes available - a vocational Ucas system with similar standing - would help improve visibility of these routes to young people and improve parity of esteem with traditional routes," the report says.
Business Secretary Vince Cable said: "I agree with the CBI. A credible alternative to university is needed to help young people get the skills the economy needs.
"So we are introducing more than 40 new higher apprenticeships. These are equivalent to getting a degree, but you're paid to train.
"They're available in a range of subjects including advanced manufacturing and space engineering. And we are growing numbers from 200 at the start of this government to 22,000 by the end of the parliament."
There are also plans to encourage businesses and universities to work together, including improving sandwich courses, he added.
Nicola Dandridge, chief executive of vice-chancellors' group Universities UK, said: "We share the CBI's concern about the sharp downturn in recruitment to part-time higher education study, and the impact of this on meeting the UK's skills needs.
As the CBI states, the reasons for the decline must be properly understood and tackled head-on.
"This is why Universities UK is currently conducting a review of part-time and mature higher education which will report in October 2013. The review will be looking at how part-time higher education can better meet the needs of learners and the economy. It will take account of the recommendations made by the CBI to develop further flexible learning opportunities, including around funding, partnerships, communications and student finance."