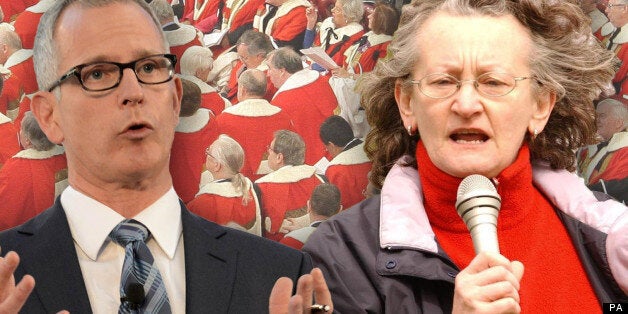 They were comprehensively rejected by voters last year - and now they're heading for the House of Lords.
Liberal Democrat Brian Paddick and the Green Party's Jenny Jones trailed in third and fourth place in the 2012 London mayoral elections, receiving a combined 8.7% of the vote.
Paddick, the former Deputy Assistant Commissioner of the Metropolitan Police, had two attempts at becoming London mayor, in 2008 and 2012, and had a crack at I'm A Celebrity, Get Me Out Of Here! In 2008.
The Green Party made no mention of the House of Lords in its press release announcement Jones' appointment, referring instead to the "second chamber in the Palace of Westminster."
The Greens want to replace the Lords with a fully-elected upper chamber.
The list of new working peers also included people who had donated to political parties as well as ex-MPs and lobbyists.
It includes 14 Conservatives, 10 Liberal Democrats and five Labour nominees, as well as the one Green.
The appointments, nominated by party leaders and cleared by the independent House of Lords Appointments Commission, are certain to provoke comment because of the inclusion of political party donors including Sir Anthony Bamford, who has given around £100,000 personally to the Tories in the last few years, with more sums donated by his company.
Ms Lawrence, who has campaigned for justice since her son Stephen was murdered, becomes a Labour baroness.