Could you run a marathon? Maybe. How about two straight after each other? Unlikely.
But what if you were asked to run seven marathons in seven days across seven continents? Only four people have conquered such an immense challenge - three able-bodied men and one blind man.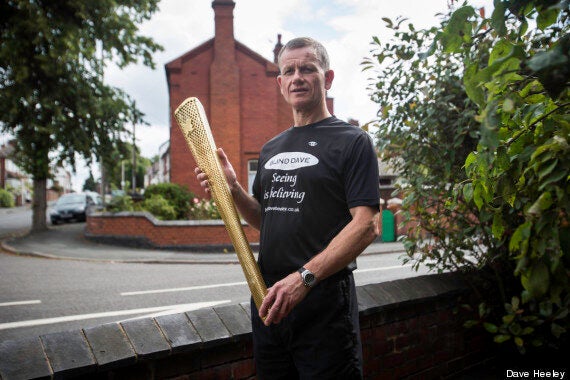 Dave Heeley: "Every step, or every turn of a pedal sends me into the unknown"
'Blind Dave' Heeley is an inspirational charity runner, having completed the aforementioned 7 in Seven Charity run, and the Top2Toe run and cycle from John O'Groats to Land's End. Having been diagnosed with Retinitas Pigmentosa at the age of just 10 after which his eyesight deteriorated, he has since gone on to raise hundreds of thousands of pounds for charity.
During the anniversary games in July, we were given the chance to reminisce about the superhuman paralympians from 2012, and Dave is definitely in the same league.
A marathon for an able-bodied person is challenge enough, requiring extreme physical and mental strength. However, blindness brings a whole range of different problems.
"The lack of sight certainly makes it more interesting," he tells the Huffington Post UK. "Every step, or every turn of a pedal sends me into the unknown."
This weekend brings another reminder of London 2012; Ride London is a 100-mile charity cycle race that follows the Olympic road race route into Surrey and Dave will be taking part. Riding tandem, he aims to raise money for Help Harry Help Others foundation, a child cancer support and research charity.
This is just the latest episode in a long list of charity fundraisers for Dave, having run the Great North and South Runs, the New York Marathon and the last 10 London Marathons but what has been the driving force behind these efforts?
"I was inspired all those years ago by my first four-legged friend, Peter, my first guide dog. My life was totally transformed and I wanted to repay what I had been given.
"There is always someone less fortunate and it's always nice to lend a helping hand when we can. I get a great feeling out of helping others, by creating awareness, funds or simply by putting a smile on faces, this gives me a great sense of achievement."
Unsurprisingly, Dave will continue his marathon efforts after he has completed the Surrey 100, moving onto another bike ride - the 7 in Seven Challenge, cycling from Zurich to Birmingham in one week.
The gruelling challenge will require intense training, but Dave admits that this is one of the most enjoyable parts of the process.
"Preparation for me is the challenge itself. For me it's all about the training, sorting out the logistics, finding that main sponsor, pulling a team together for support. The whole aspect of organising gives me a great thrill and moreover being blind it's nice to know in my own head that things have been sorted, so when I stand on that start line of adventure all I need to worry myself with is trying to finish and succeed."
Dave is coy when asked about future challenges, saying, "I have to admit there are a few things seeding in my head, but I'll keep them for another time as my immediate thoughts are firstly Ride London and then concentration will move to September, but in between the 7 in Seven there is a little matter of the Great North Run and the Birmingham half marathon, then rest until the New Year, hopefully! Maybe this one could be my swan song!
"But who knows what's round the next corner?"
Related