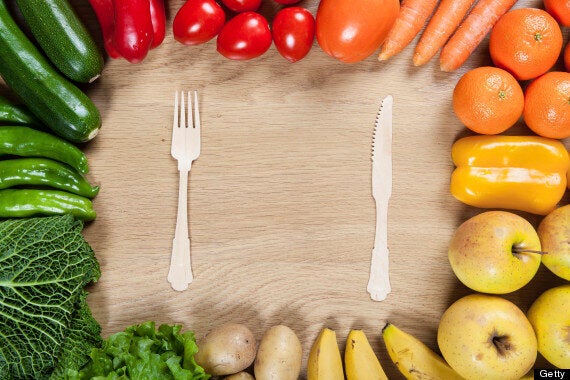 It's the final month for berries (we've found cherries in July a bit lacklustre to say the least) in August - but what other foods are coming into season?
For August, look to the Mediterranean for inspiration. Tomatoes are at their best and taste delicious in simple salads, while barbecuing enters its final month - perfect for firm aubergines and peppers.
Ben Tish, chef director of the Salt Yard group, says: "My favourite seasonal ingredients here are sea trout - a beautiful, firm flesh-salmon like fish. Its wonderfully meaty and flavorsome fish and great just now, during the summer months. I like to roast it and crisp the skin whilst keeping the flesh pink inside so its nice and moist."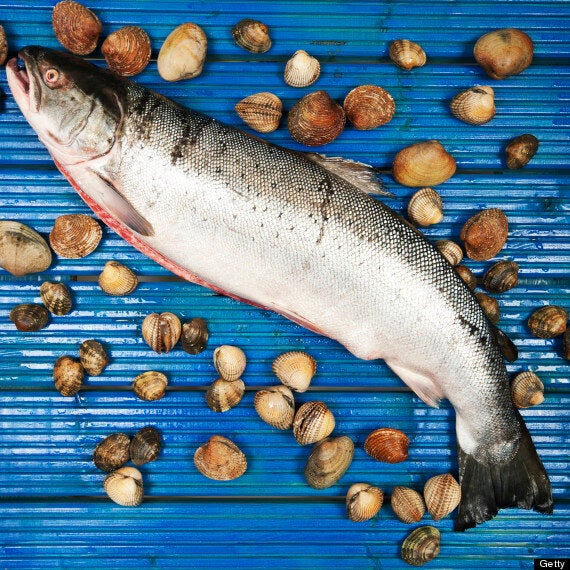 For meat-eaters, it is of course the season for grouse. 12 August marks shooting season, and we'll start to see game flooding our butchers counters once more. If the weather holds out, try your hand at marinating it and cooking it on the barbecue.
Speaking of barbecue, the mighty courgette is also coming into season. Ben adds: "It's great cooked over charcoal or roasted. I also like to serve it in salads with fennel and peppery leaves. Courgettes are so versatile and work with with any cooking technique. You can find courgette flowers around at the minute and they are great stuffed with cheese or crab or even some spicy lamb and then deep fried. Delicious."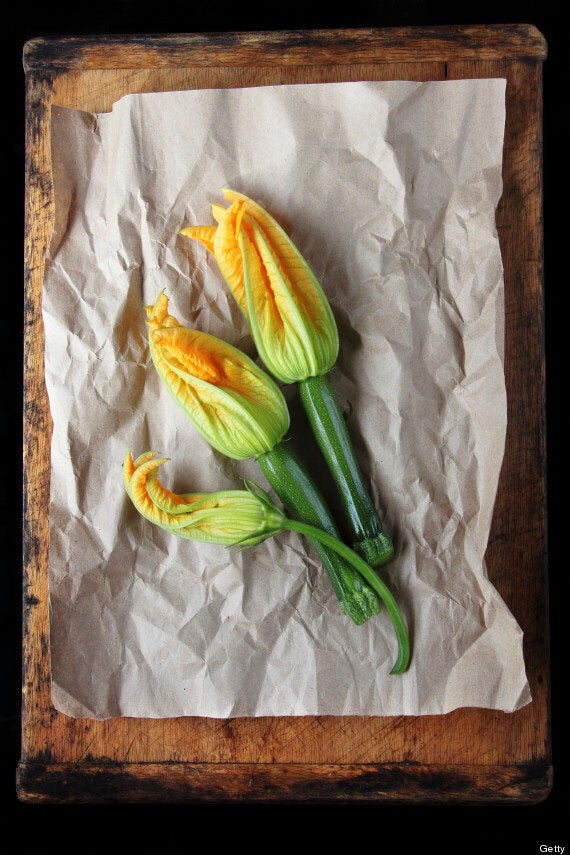 Theo Randall applauds the arrival of wild mushrooms. "Scottish chanterelles and fresh porcini mushrooms are shining at this time of the year. We often use these on bruschetta, which we cook in a wood oven to give them extra flavour. Our delicious frittata comes with Trompette De La Mort mushrooms, ricotta parmesan, and a few shavings of summer truffles.
"There are wonderful English-grown vegetables like Swiss chard, red and golden beetroot. Sweet fruits are in abundance including array of melons, which are excellent with a salty Prosciutto di Parma. One of favourites is white peach, which work fantastically well in a refreshing sorbet."
Here are two recipes from Ben using trout and courgettes:
Roasted Sea Trout with Courgettes, Parsley Crusted Clams & Chilli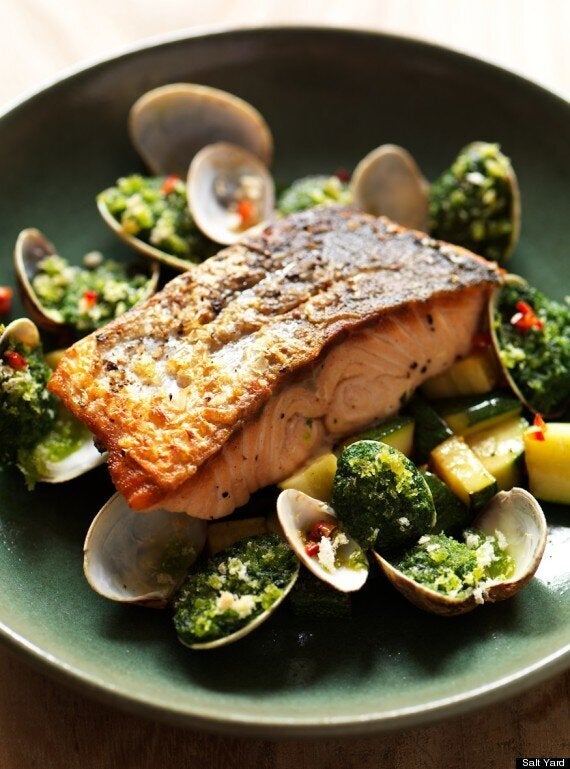 Here we roast it with the skin on for texture and flavour and serve it "medium" so the flesh is beautifully moist. If your fishmonger can't find sea trout then a decent salmon, such as organic, will be an adequate replacement and the clams could be replaced with mussels.
4x 200g fillets of sea trout, skin intact (cut these smaller if you wish to serve as a tapa)
Couple of handfuls of sea clams (parloude or venus), washed under cold running water for a few minutes and drained
1 bunch of flat leaf parsley, leaves picked and stalks discarded
1 cloves garlic, peeled and chopped
2 medium green courgettes, sliced into rounds
2 slices of stale white bread, crusts removed
1 small glass of white wine
1 small red chilli cut in half and deseeded
sea salt and black pepper
good extra virgin olive oil for finishing
Turn a grill on to a medium heat.
Place the bread, garlic and parsley in a food processor and pulse blend until everything has combined and then add a good lug of olive oil and blend further until you achieve a fine, green crumb. Season with salt and pepper and reserve.
Heat a medium size saucepan over a high heat then throw in the clams and the glass of wine. Place a lid or some foil on top of the pan and give it a shake. You should let the pan steam until the clam shells open. If any of the clams remain closed then they should be discarded.
When the clams are open remove from the pan to cool down.
Toss the courgettes in a bowl with some olive oil, salt and pepper. Heat a large sauté pan over a medium heat and add the courgettes. Give them a toss through in the pan and slightly lower the heat.
You want to lightly colour the courgettes and cook them through until just tender. Finely slice the chilli and then toss this through the courgettes. When cooked through remove the courgettes from the pan, reserve and keep warm.
Take some of the crumb and sprinkle it into each clamshell, on top of the clam meat. You should slightly mound it so you have a good crust to clam ratio.
Heat a good non-stick sauté pan over a high heat and add a lug of olive oil. Season the trout fillets and then place skin side down in the pan. Turn the heat down to medium and press the fillets, gently, into the pan. Cook the trout until crisp and brown and then turn over and finish cooking.
A minute before the trout is ready place the clams under the overhead grill. Divide the courgettes between serving plates and top with the trout fillets. Remove the clams from the grill, the crust should have turned light brown and crisp, and place them around the courgettes.
Courgette Flowers Stuffed with Goats Cheese and Drizzled with Honey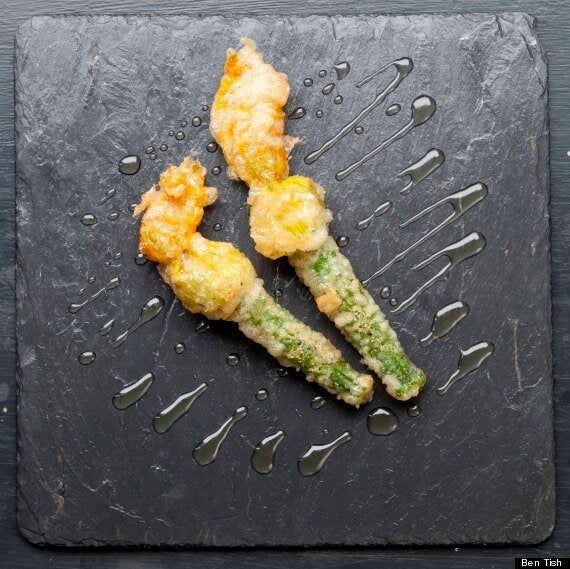 12 courgette flowers stalks in tact
120g-semi firm goats cheese such as Monte Enebro or chevre cut into 10g pieces
Runny blossom honey for drizzling
2 litres of vegetable oil for frying
150g plain flour (sifted)
Firstly make the batter. Tip the flour and baking powder into a bowl. Whisk in the water and ensure everything is incorporated well. Leave to rest.
Pour the vegetable oil into a deep-sided pan or deep fat fryer. Slowly heat up to 180C or when a little bit of the batter is dropped in and it fizzles and browns immediately. Keep the oil at a steady temperature.
Carefully peel down the petals of the flowers and remove the stamen. This can be bitter.
Mould a piece of cheese and then stuff it into the flower and twist the leaves back up to form a tight seal. Be careful with the petals they are very delicate and will tear easily. Cut a small slit in the bottom of the courgette stalks. This will help speed up the cooking process of the courgette in the fryer.
Carefully dip the flowers, in batches-two or three at a time- into the batter and then place in the fryer. Cook the flowers until they are golden brown on both sides. You will need to turn the flowers during this process to cook both sides. When ready, remove the flowers from the oil and drain well and keep warm.
Continue cooking the other flowers in the same fashion. When the flowers are all ready and drained of excess oil, transfer to serving plates and drizzle with honey.
Related