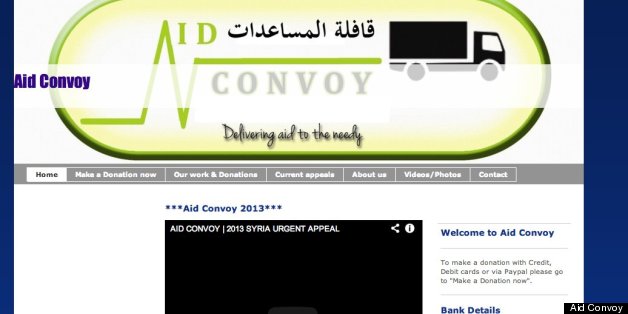 Aid Convoy
Police are investigating a British charity after more than £40,000 cash was seized from a group of men at Dover.
The men, who were heading for the Middle East, were believed to be travelling on behalf of Aid Convoy, a charity which describes its work as providing humanitarian and medical aid to the people of the border areas of Lebanon and Syria.
Kent Police said it was investigating whether the money was being taken out of the country for illegal purposes.
A Kent police spokeswoman confirmed officers seized three sums of cash worth £36,066, 10,600 dollars (£6,934) and 1,400 euros (£1,216) from a group of men at Dover who were on their way to the Middle East.
She said: "This is part of an ongoing investigation."
A spokeswoman for the Charity Commission said that it was assessing Aid Convoy as part of an "ongoing operational compliance case".
She said: "We expect to clarify whether the organisation is charitable in law and ought therefore to be registered. In the meantime, we can't speculate as to its legal status or comment further on our work on this case."
The Aid Convoy website states: "We are embarking on a number of projects working on the Turkish-Syria & Lebanese-Syria borders. We will be working with our partners and we will also be present."
It also has a warning that "there are people/groups miss-using our charity name".
Its list of causes includes: "Ambulances Appeal - We intend to buy a number of ambulances in Lebanon to assist the injured across the border & inside Syria.
"General Food Appeal - To distribute food on both borders & inside Syria.
"Widows & Orphans Appeal - To provide general financial assistance."
It also states: "We offer assistance where it's most needed.
"We run the following programmes in:
"Provide humanitarian & medical aid. Attend to needs in war zones & natural disasters. Assist refugees."
A YouTube video posted on its site details how the charity has spent £125,000 including £81,000 on medication,
£20,000 on vehicles and £15,000 on refugee camps.
Aid Convoy did not reply when asked for a response from the Press Association.