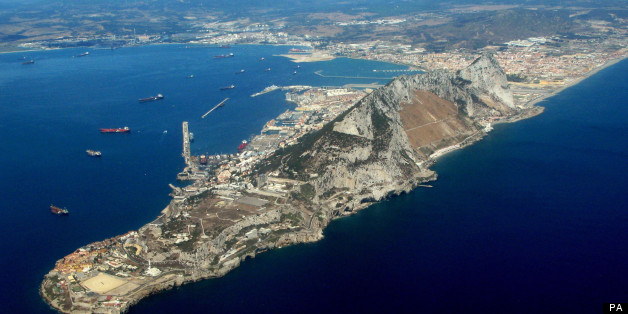 PA
Britain says it is "concerned" over new hard line tactics by Spain over Gibraltar.
The Spanish foreign minister has used a newspaper interview to warn: "The party is over."
Jose Garcia-Margallo criticised the conciliatory stance under the previous Socialist regime.
This sparked concern at the Foreign Office, which said: "We are concerned by today's comments on Gibraltar, which we are looking into further.
"As we have said, we will not compromise on our sovereignty over Gibraltar, nor our commitment to its people. We continue to use all necessary measures to safeguard British sovereignty."
'Shooting' in Gibraltar waters
Hague tries to cool border dispute
Garcia-Margallo suggested that a 50 euro (£43.40) fee could be imposed on every vehicle entering or leaving the Rock through its border post with Spain, with the proceeds used to help Spanish fishermen who have lost out because of damage to fishing grounds allegedly caused by Gibraltarian authorities.
Such a fee could impose punitive costs on Gibraltarians who regularly commute into Spain to work.
Spain is also considering closing its airspace to flights heading to Gibraltar, and changing the law so that online gaming companies operating from the British overseas territory have to use Spanish servers and come under the jurisdiction of Madrid's taxation regime, he said.
And he indicated that Spanish tax authorities may launch an investigation into property owned by around 6,000 Gibraltarians in neighbouring parts of Spain, as part of its EU obligations to control "fiscal irregularities".
Garcia-Margallo's comments represent the latest escalation in the dispute over the status of Gibraltar, following a number of alleged Spanish incursions into the territory's waters.
Spain claims sovereignty over the Rock, which stands on the southernmost tip of the Iberian peninsula but has been a
British Overseas Territory since the Treaty of Utrecht in 1713. But the UK Government has made clear that it will not
negotiate over sovereignty as long as Gibraltar's people want to remain British.
Foreign Secretary William Hague last weekend phoned Garcia-Margallo to complain about Spain ramping up border checks, which forced drivers to wait for up to seven hours in searing heat. on Saturday, the Foreign Office summoned the Spanish ambassador to demand assurances that there would be no repeat of the excessive checks.