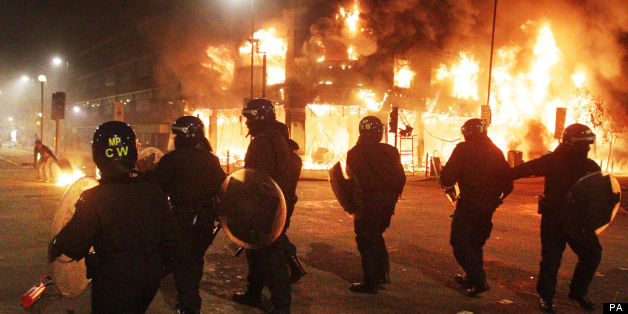 PA
The president of the Association of Chief Police Officers has insisted that forces would be much better prepared to deal with a fresh outbreak of rioting two years after trouble flared in London and cities across England.
Sir Hugh Orde said police were better placed to be "able to nip it in the bud" if unrest threatened to break out again.
He said forces had worked closely with Home Secretary Theresa May to ensure the system was "fit for purpose" in future.
Two years ago the police shooting of Mark Duggan in Tottenham, north London, sparked a tidal wave of rioting, arson and looting that spread to other parts of the country.
But Sir Hugh told BBC Radio 4's Today programme: "It is too simplistic to say this was an anti-police riot. It was far more complicated.
"Over 5,000 people have been arrested since the riots, the vast majority for stealing designer goods, this was not anti-police, this was an opportunity, and a unique set of circumstances.
"The service has responded, we certainly are more organised now. Should an event happen or look like it's going to happen, we can mobilise far more quickly. We have worked very closely with the Home Office and indeed the Home
Secretary to make sure we are fit for purpose at the centre.
"But we have a devolved policing model, we have 44 forces in this country and we don't need a public order national capacity, we are a peaceful, law-abiding community in the routine.
"We have to get the balance right, we have to work with Police and Crime Commissioners. I think the situation now is stronger should it happen again."
He added that technological advances had helped forces work together so "we'll be able to nip it in the bud, hopefully, should anything look like it's going to happen of this type".
Pauline Pearce, who won plaudits for confronting rioters in Hackney, said the unrest had shown different gangs could put their differences aside, but not in a positive way.
She told Today: "Even the gangs that weren't speaking to each other, the postcode lords, everything was kind of quashed that day. Everyone said 'we'll all fight together on this one', which is good that a community can come together because they disagree so much about something and stay firm in their belief, but my argument was there must be a better way to do this, there must be a way you can do this in a more calm, peaceful manner."
But Ms Pearce, who last year stood as a Liberal Democrat council candidate in the borough, added: "By the time I got involved it was already way out of hand."