Wayne Rooney is urged on a daily basis to stay at Manchester United. Former players, pundits and writers have openly spelt it out for the wantaway striker in black and white, only they overlook the shades of grey.
Rooney and United are not the heaven-made match they should have been. Sir Alex Ferguson's tinkering, Rooney's attitude and fitness have reduced him to a peripheral figure, and his immobility does not complement the starting XI well enough.
Ray Wilkins today said moving to Chelsea would be a "step down" for Rooney. It is a cliché trotted out on the rare occasion a player wants to leave United, only it is actually a myth.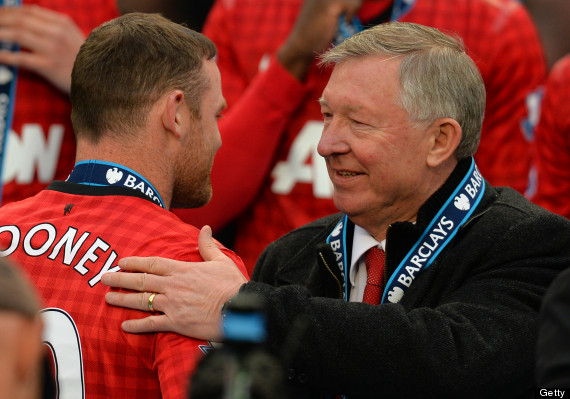 Rooney suffers his "shoulder injury"
Players have left the club and prospered. They may not boast a trophy haul to match the Reds', but they have enhanced their reputations and proved there can be an upside to leaving Britain's biggest club. Trophies can often signal glory by association, rather than underline a player's class. Just look at Paulo Ferreira.
Chelsea suit Rooney because they need a striker and Rooney needs Chelsea to resurrect him.
Here are five players who have flourished away from the Theatre of Dreams...
JAAP STAM
Prior to the 2006 Amsterdam Tournament, Sir Alex Ferguson came face-to-face with Stam for the first time since he controversially and bizarrely sold him five years previously. After defensive lapses in Ryan Giggs' testimonial against Celtic, the Charity Shield defeat to Liverpool and home win against Fulham, Stam was promptly dropped in August 2001 and never played for United again. Flogged to Lazio for £16.5 million, inexplicably, Ferguson brought in veteran Laurent Blanc as his replacement and United lost six league games before Christmas.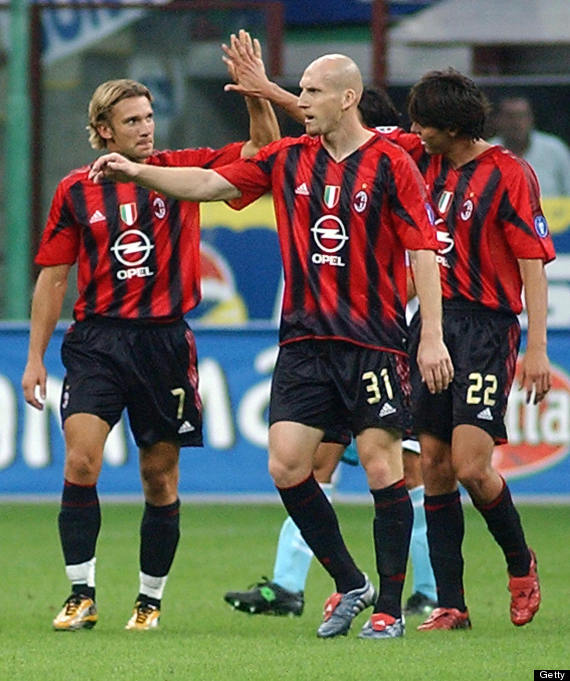 Stam partnered Paolo Maldini in a classy Milan side
At that press conference in Amsterdam, the world's most intrepid interviewer asked Ferguson if he had made a mistake in selling Stam. "Maybe I did," he ruefully replied. It is the only mea culpa Ferguson has issued for his error.
Twenty-nine when he left the Premier League, Stam only won the Supercopa with Lazio and the KNVB Cup at Ajax in his post-Old Trafford career, and was part of the AC Milan side which left devastated by Liverpool in the 2005 Champions League final.
However, he remained one of European football's finest centre-backs until his 2007 retirement and would have complemented Rio Ferdinand superbly. The Dutchman's chant remains one of the most popular among United supporters.
DIEGO FORLÁN
Had Sir Alex Ferguson signed Forlán in the current climate, he would almost certainly have loaned him to another club in order for the Uruguayan to adapt to European football. Aged 21 when he arrived at Old Trafford, Forlán was too young and inexperienced to complement Ruud van Nistelrooy, who regularly benefitted from Ole Gunnar Solskjaer's selflessness and his selfishness.
Signed from Independiente for £6.9 million in January 2002, Forlán took 26 games to score his first United goal and nine months to break his duck in the Premier League.
A tireless trier, he did however earn a cult status for scoring a match-winning double at Liverpool in December 2002. "He came from Uruguay, he made the Scousers cry," the Stretford End hollered. Winners against Southampton and Chelsea, as well as a magnificent volley versus Rangers, enhanced the affection, but Forlán's finishing was occasionally calamitous and costly.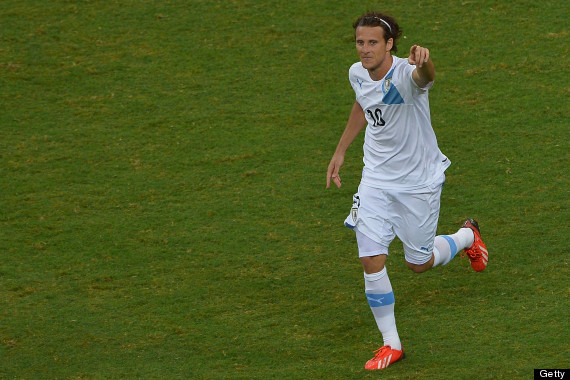 Forlán continues to be a vital player for Uruguay
He was jettisoned after two-and-a-half-years to Villarreal, where he won the Pichichi trophy for the top scorer in Spain, a feat he repeated with Atlético Madrid in 2008-09. The following campaign, he scored the winner for Atléti in their Europa League final triumph over Fulham, overshadowing strike partner Sergio Agüero.
At the 2010 World Cup, Forlán seemed to be the only player capable of mastering the infamous Jabulani match ball. Joint-top scorer with six goals, the talismanic Uruguayan led his team to the semi-finals and received the Golden Ball for best player at the finals.
Though Forlán's trophy cabinet is sparse post-United, he has thrived and gained international acclaim.
GIUSEPPE ROSSI
Rossi, now 26, has not lifted any silverware away from Old Trafford but has established himself as an Italian international and succeeded in both the Primera Liga with, like Forlán, Villarreal and Serie A with Parma. This summer, he joined Fiorentina's upcoming squad.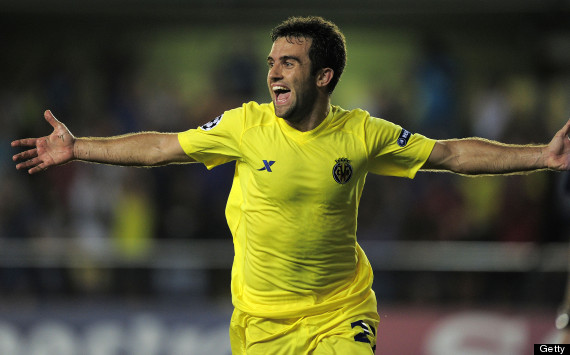 Rossi joined Fiorentina this summer
The New Jersey-born striker was mistakenly sent out on loan for the 2006-07 season - shortly after Ruud van Nistelrooy had left United for Real Madrid. Glenn Roeder hardly played him at Newcastle despite a paucity of striking options, and by the time Rossi returned to United a year later Carlos Tévez was en route to complement Cristiano Ronaldo and Wayne Rooney.
GERARD PIQUÉ
The Spaniard made just 23 appearances in three full seasons at United, which made it impossible for Ferguson to reject Barcelona's generous £7m offer for a player they lost to the Reds in 2004.
Piqué, 21 when he departed M16, has literally won everything with club and country since he returned to Spain five years ago and is regarded as one of the best defensive distributors. And his girlfriend is Shakira.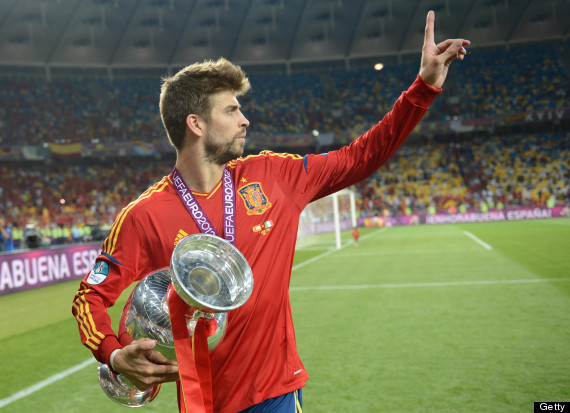 Missing Manchester? No, I'm doing just fine
Like Forlán, Piqué was perhaps too young to blossom at United and was later unable to break the formidable Rio Ferdinand-Nemanja Vidić axis, but he was underplayed, and the dithering John O'Shea was afforded more chances in defence.
CARLOS TÉVEZ
Ferguson lost Tévez through no fault of his own and, retrospectively, was probably glad to be rid of a player Gary Neville said had decided "to toss it off a bit in training" during his second undistinguished campaign with the Reds.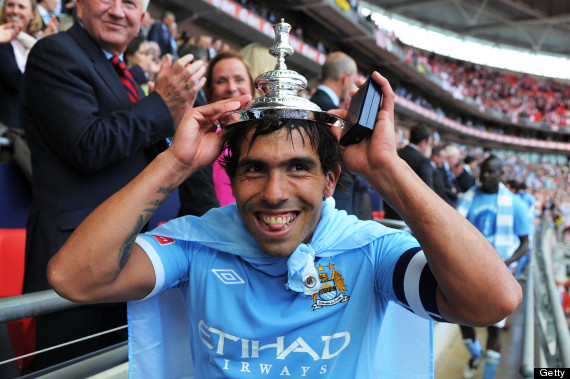 The "money-grabbing w***e"
However, that "t**t from Argentina" did win more trophies at City and was a more potent striker than the impact player who was a huge fans' favourite at United. He won FA Cup and Premier League winners' medals with the Citizens before joining Juventus last month.