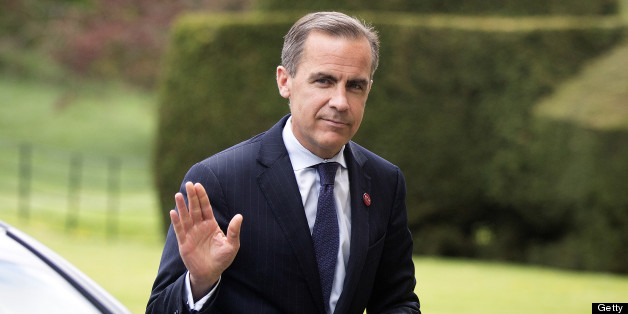 Getty
Mark Carney is set to unveil his much-hyped idea of issuing "forward guidance" when he gives his monthly inflation report, which would signal the future direction of interest rates in a major change to the UK's economic framework.
The policy would potentially mean locking in borrowing rates for consumers and businesses for a set period of time, in a move to provide a much sought-after dose of economic certainty.
The Bank of England Governor introduced it back in 2009 when he ran the Bank of Canada, so Carney has been a longtime backer of the policy.
In 2009, Carney's Bank of Canada signaled its intention to keep interest rates at 0.25% for over a year, which is credited with helping stabilise the Canadian economy by limiting market uncertainty as there was less to speculate over in the economy's development.
The success of forward guidance saw it alter snapped up by the US Federal Reserve, and now it is set to come to the Bank of England. Is the UK ready for it?
Chancellor George Osborne has already signed up to Carney's economic prescription, having asked him to consider how to thrash out forward guidance for the UK back in March.
Osborne has not stated how he wants it done, just that Carney should sort out the nitty-gritty.
What could it mean in practise? The Bank of England long-term pledge on interest rates could either be "time contigent", focusing to keep it at a certain level for a period of time, or "state contingent", with the interest rate rise sparked off when certain economic levels are breached, like GDP, growth, unemployment, or inflation.
In other words, if unemployment falls below a certain level, Carney's forward guidance could lead to a rise in interest rates, like the Fed's policy to keep rates ultra-low until unemployment falls below 6.5%.
City experts are cautiously positive about the move, with attention and concern focusing on how restrictive the policy's targets could be.
The Governor will have to bring round around his critical colleagues, including deputy governor Charlie Bean and chief economist Spencer Dale. Their criticisms center around the idea that it could be too simplistic to lock in the UK's economic direction for a potential span of years.
Back in December, Spencer Dale warned that the Bank's credibility could be jeopardized by too restrictive targets: "You let the economy overheat relative to what you otherwise would have done, and you do that because of a commitment you made two or three years ago. Will people really believe that you really will let the economy overheat, and secondly, do you really want to do that?"
PwC Chief Economist Andew Sentance, who served on the Bank's Monetary Policy Committee, wrote: "Different economic indicators can point in different directions - as GDP growth and unemployment have done over the UK recovery. In general, it makes more sense to look at all the available data when setting monetary policy, rather than over-emphasising one or two indicators. "
However, Carney's announcement would need to be simple enough to ensure the public are reassured that the Bank was working to stabilise interest rates and the level of inflation.
So how will the governor strike this balance? Some analysts are expecting him to fudge it and doubt any solid commitments.
Jane Foley of Rabobank says: "Our expectation is that forward guidance used by the Bank will be simple and not tied to the performance of a particular economic variable."
Former MPC member DeAnne Julius expects the guidance to be a "damp squib", saying: "I think they will hedge their bets."
If Carney's forward guidance ends up including less-than-specific targets in order to leave the central bank some wiggle room, he can expect critics to round on his leadership skills.
For now, Carney will soon cut through the market speculation in deciding how he'll finally add a shot of certainty to the UK economy.