British Airways has apologised to passengers flying from Riyadh in Saudi Arabia to London Heathrow after a fault saw the same plane make two emergency landings.
Around 70 passengers ended up staging a sit-in protest on the plane for five hours, according to reports, after mayhem broke out at the airport.
The trouble started when the Boeing 747 had to turn back to Riyadh on Wednesday due to a problem with the wing flaps. Then when the same plane took off yesterday, following repairs, the same problem reoccurred and the aircraft had to fly back to Riyadh.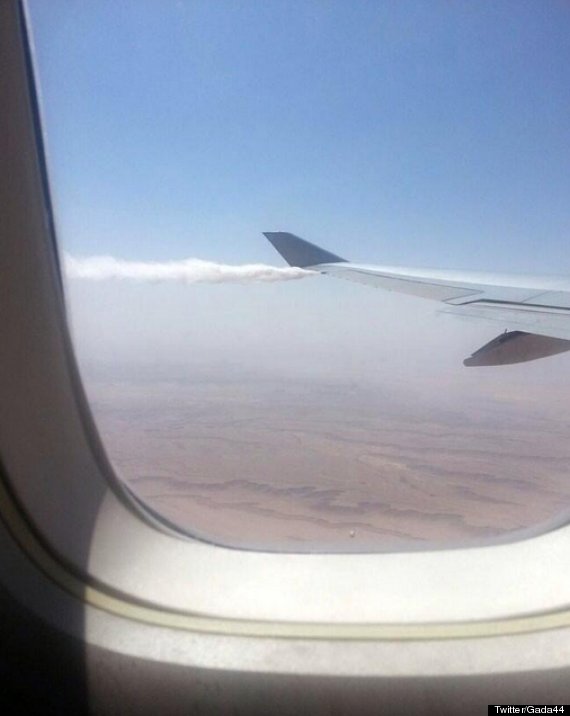 The plane was forced to dump tonnes of fuel while making an emergency landing
One passenger, Dean Jones, told the Mail onlinethat in the terminal at Riyadh there was "mayhem" as just one BA worker tried to deal with more than 300 passengers while other ground crew "hid' in a back office.
He went on: "Fights broke out and the military turned up.
"We were furious they put us back up in the plane when they knew there was a serious problem. BA customer relations have been useless."
@BritishAirways this all what we got! #BA262 flight riyadh- london pic.twitter.com/L6XyrWUqq5

— Hetaf Bin Saedan (@HetafSaedan) August 8, 2013
Mr Jones said that on the first return to Riyadh "there was screaming and crying and we hit the runway with a massive bang".
He said passengers had to make their own way to accommodation, before being told to return to the airport at 3am for a flight on the same plane that eventually took off at 8.45am.
Around 30 minutes in, the wing flap problem recurred. Mr Jones said: '"This time people were even more frightened. Women were crying. People were being sick.'"
After landing around 70 passengers refused to leave and called for an official to explain what was happening.
The sit-in organiser said: 'It was extremely hot but we had to make a stand. But nobody came to speak to us.'
A BA spokesman said today: "We apologise to customers for their experience, and we sent a replacement aircraft to fly them to the UK.
"Our customer service teams are contacting customers directly to offer compensation, expenses and complimentary tickets as a gesture of goodwill.
"The safety of our customers and crew is always our first concern and due to a technical problem, the decision was taken to return the aircraft to Riyadh.
"Our crew and customer service teams did everything they could to care for customers, and we provided overnight hotel accommodation."