A severed foot, still clad in a black trainer, has been reeled in by a fisherman off the shores of New Jersey.
The black Adidas ADI Rise 2 was hooked by fisherman Jamie Pugliese at Corson's Inlet State Park on Tuesday.
The foot was largely skeletal and had coloured nail polish on some of the toes, though the gender and age of the foot's owner are unknown, NBC Philadelphia reports.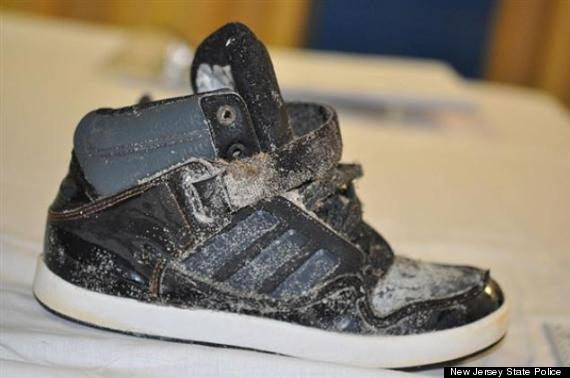 The foot was largely skeletal, though there was evidence of nail polish on some of the toes. It was clad in a size 5 1/2 shoe
Pugliese told the channel: "Kind of makes you wonder what's going on with the rest of the body. It's very strange. I feel terrible for the family and the person it happened."
The remains have been sent to the New Jersey State Anthropologist for DNA testing.
In 2012, police in Canada launched a probe after a number of child-sized shoes found washed up on a beach were found to have been stuffed with poultry meat and bones.
The shoes were found at the Clover Point beach area in British Colombia and were planted by hoaxers, following the discovery of nine shoes containing genuine human feet since 2007.
Coroners believe the feet apparently separated naturally from bodies in the water, with no indication of foul play. Two were identified as belonging to a woman who committed suicide by jumping from a bridge, the Canadian Press reports.