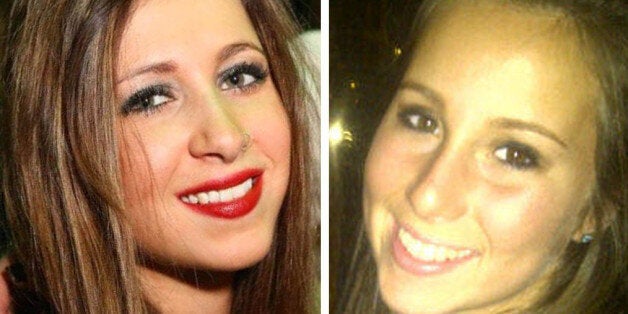 The mother of one of the Zanzibar acid attacks victims has spoken for the first time saying: "I am just glad she is home."
Katie Gee's mother, Nicky Gee, 45, told the Evening Standard: "I want to get inside and see her. We spoke this morning and she said she was okay. It has been a terrible ordeal for the families."
An unnamed family friend, who claimed to have spoken to the girls during a stop-over in Eygpt, told the paper: "They seemed okay. They were pleased to be coming home. They are as well as can be expected. Katie is on pain relief."
Volunteer teachers Katie Gee and Kirstie Trup, both 18, are understood to have been flown in to RAF Northolt in London, to be reunited with their families.
Five men are being questioned by police on the Indian Ocean island after the women were attacked by men on a motorbike as they walked along a road on Wednesday night.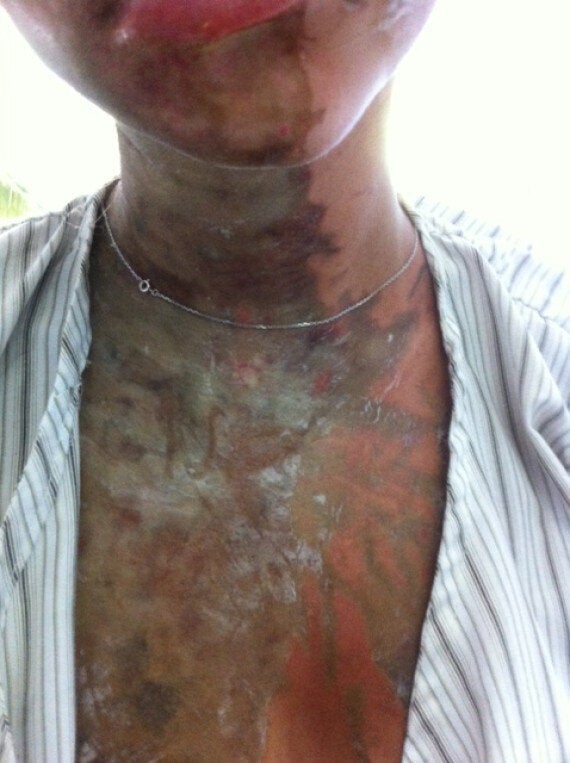 The burns sustained by one of the girls
Mkadam Khamis, regional police commissioner on Zanzibar, told the Daily Telegraph: "There are five people we have, all men, who we are interrogating over this matter this morning.
"They have not yet been arrested. They are co-operating and answering our questions. Later today maybe there will be a development legally."
The young women, from north London, were enjoying the last week of a trip as volunteer teachers to the predominantly Muslim island when a corrosive substance was thrown at them in an apparently unprovoked attack.
They suffered burns to their faces, hands, legs, backs and necks, The Times reported.
They were flown to the Tanzanian capital Dar es Salaam for treatment before being released.
Marc Trup, Miss Trup's father, told the newspaper the pair were "inconsolable" and still in pain when he spoke to them on a mobile phone lent to the girls by a passer-by after the attack.
"We couldn't get anything out of them because they had been burned," he said. "Both girls are very shocked and very frightened."
Speaking about his daughter, he added: "She can still see and she is not dead. Whatever it is we will cope with it."
In a statement outside the Trup home, a family friend said the girls were flying home and their parents were looking forward to being reunited with them.
Speaking on behalf of the girls' mothers, Rochelle Trup and Nicky Gee, he said: "Both families are extremely upset and distressed at this completely unprovoked attack on their lovely daughters, who had only gone to Zanzibar with good intention."
In a statement last night, i-to-i Travel, which organised their visit, said: "We can now confirm that both individuals are scheduled to be repatriated to the UK."
Mr Trup said the girls were dressed appropriately and had been warned not to wear anything which gave away their Jewish background, including the Star of David.
He told the newspaper: "We know it's a Muslim country, they were Western girls. Unfortunately they went out during the month of Ramadan.
"There has been a huge alert in African countries with potential threats. Maybe it's connected, maybe not."
The girls had originally planned to return in time to collect their A-Level results next week, with Miss Trup hoping to study history at the University of Bristol while Miss Gee is considering the University of Leeds, The Times reported.
Their flight home came as news emerged that Miss Gee had been attacked previously on the island.
A friend, Oli Cohen, 21, told the Daily Telegraph: "Katie was attacked two weeks ago by a Muslim woman for singing during Ramadan.
"She was shocked as it just came from out of the blue - but she wasn't scared enough to come home. She stayed out there to finish her trip and volunteering."
Zanzibar is an archipelago of islands in the Indian Ocean about 22 miles (35km) off the mainland.
The semi-autonomous region of Tanzania is predominantly Muslim and has been the scene of some religious violence in recent years.
Earlier this year two Christian leaders were killed and in November a cleric was treated in hospital after an acid attack.
The attack happened in the Stone Town area of Zanzibar's eponymous capital city.