It took Sir Alex Ferguson's Manchester United 212 minutes to register their first goal whereas his successor's outfit took under six minutes. Robin van Persie's perfectly placed header past Wigan's Scott Carson began a comfortable afternoon in the sun for David Moyes, who could have been forgiven for swapping the bench for a deckchair.
Unlike in pre-season, United functioned well at Wembley. The opposition, who they vanquished 4-0 both home and away last season, were tenacious but hardly testing, and despite the personnel, this was still a different United.
Moyes sprinkled some of his Evertonian stardust, with Patrice Evra multi-tasking as full-back and left-winger. Leighton Baines' tireless displays for Everton benefitted Steven Pienaar, who starts matches wide but always veers centrally, and Evra's energy allowed Danny Welbeck to stay central rather than toil on the wing.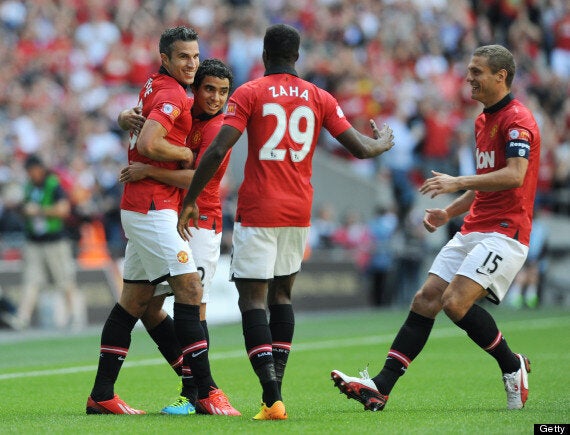 Van Persie kick-started the Moyes era with a goal on six minutes
Longsight lad Welbeck scored just two goals last season but was at least played in his best position by Moyes. The England international's progress has stalled, partly due to Ferguson's tinkering, but from the teasers, he will be granted a fairer crack of the whip. Welbeck struggled to get chances, let alone goals, last season, but forced a routine stop from Carson on 38 minutes and was enterprising.
Evra, however, will not be able to play such a demanding role game after game at 32 years of age, while his deputy, the abysmal Alexander Büttner, literally can't. Ironically, by starting the match, Evra was auditioning on behalf of would-be successor, Baines, who could still join United before the transfer window clanks shut on 2 September.
Belatedly, United are showing signs of pressing opponents. Everton's Darron Gibson, nurtured by Ferguson and signed by Moyes, highlighted this last year after he joined the Toffees.
"We have been pressing teams and working really hard to do it, which is something we didn't do much of at Manchester United," he said.
But this was only a Championship side, and Moyes' desire to energise a static midfield cannot succeed with the current midfielders he possesses. It is testament to United's midfield malaise that James McCarthy - bizarrely, still at Wigan - would get into their starting line-up.
Giggs, Michael Carrick and Tom Cleverley were the Reds' triumvirate, which could be translated as Moyes' cry for help for reinforcements in an area not strengthened since 2007. Cleverley's infamous finishing was showcased six minutes after the pause and Anderson's arrival was the equivalent of Moyes getting down on his knees and begging to vice chairman Ed Woodward.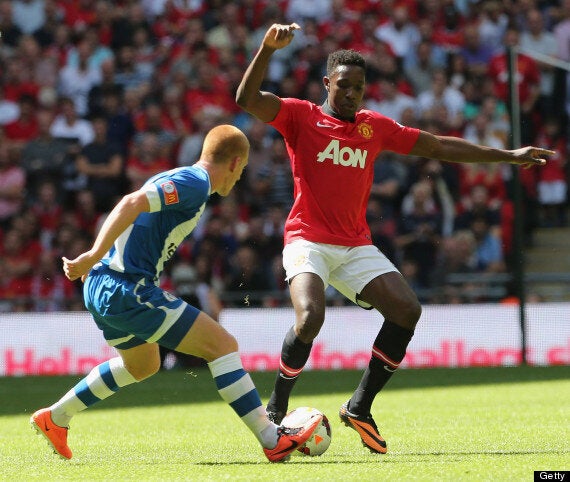 Welbeck impressed in a central role
McCarthy's aggression occasionally unsettled United's trio, something which won't occur if Marouane Fellaini swaps Merseyside for Manchester. Despite Van Persie's potency and the Reds's silkiness, there are already glimpses of Everton in Moyes' United. Fellaini would offer some much-needed steel and Welbeck's physicality could be critical as he views with Shinji Kagawa to assist Van Persie.
Carson was playing at Wembley for the first time since his Niko Kranjčar clanger nearly six years ago whereas Ryan Giggs was making his 21st appearance at the stadium.
Giggs' energy continues to astound. Racing back to regain possession has become the trademark of his Indian summer, and midway through the first period he robbed Shaun Maloney of the ball to a crackle of applause from the 40,000 United fans. Such flashes from a 39-year-old should be scarce at a club as big as United, but there continues to be an element of dependence on their most decorated player.
Their newest, Wilfried Zaha, was erratic but entertaining, nearly assisting Welbeck for United's second. Ferguson's parting gift, he continues United's trend of maddening yet talented wingers, but has an appetite for defending too and should start at Swansea City next weekend.
Van Persie's deflected second just prior to the hour ended the contest as United sauntered to their 16th Community Shield win outright. "Come on David Moyes" was aired as a paean to Ferguson, but the 40,000 Reds rocked to Van Persie's Seven Nation Army ditty. Wayne Manor remains Robin's.
Popular in the Community