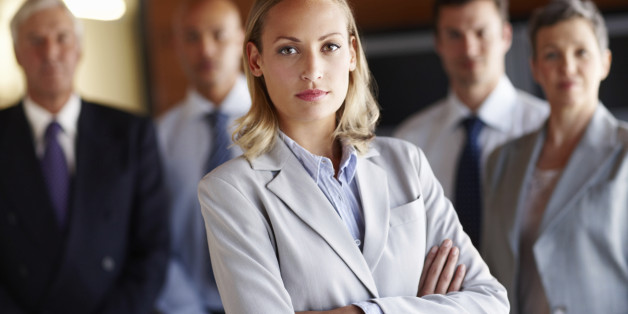 Getty
The fight for gender equality in the workplace may still have a long way to go but now could be just the right time for women to prove they mean business.
According to a recent government-backed report, increasing the number of women in the workforce would dramatically boost the UK's economic growth.
If there were an equal number of men and women in the workforce, GDP growth would be up to 10% higher by 2030, claims the study by the Women's Business Council.
Perhaps Lord Sugar had cottoned on to this when he chose to put two women in his final boardroom showdown for the first time (that, and a little encouragement from Karren Brady, of course).
Another encouraging piece of research, released this month [July 2013] by insurance company, LV, found that 41% of women earn more than their partner, up from 26% over the last three decades. So perhaps the glass ceiling really is beginning to weaken.
But despite this increasing evidence that companies need to employ a higher proportion of women in leadership roles, and telling glimpses of a more balanced future, the gender pay gap is still a shocking reality. What's more, experts believe this may have a negative effect on the way a woman perceives her own value in the workplace, starting the moment she leaves university.
In March 2013, a study by Warwick Institute For Employment Research revealed that female graduates can expect to earn thousands of pounds a year less than their male counterparts.
While women taking their first graduate job were earning between £15-17,999 and £21-23,999 – men, with the same degree and applying for equivalent roles, were more likely to earn in excess of £24,000.
The message this sends to young women is not exactly inspiring: Discrimination starts early – well before the point that motherhood is thrown into the mix.
But an interesting point that emerged from the survey results was that women are not valuing themselves as highly as men right from the outset, asking for an average of £3,000 less in their job interviews than their male counterparts.
Heather Jackson, chief executive of The Women's Business Forum, said of the findings: "This is not about women lacking confidence. This is about them valuing themselves less than men. They are willing to accept less pay for the same work than men; who will negotiate upwards as they believe they are worth more."
And yet the first key recommendation laid out in the government-backed report by the Women's Business Council, is that "there is an overwhelming business case, supported by strong evidence, for maximising women's contribution to growth".
Now is the time for women to focus on the positive statistics and understand their true value in the workforce. After all, the evidence suggests, by getting promoted you could a) have a dramatically positive effect on the country's economic future, and b) push the proportion of female breadwinners up from 41% to 50%.
But before you stride into the boss's office, wafting your business case, browse our ten tips on how to get promoted (even in the most male-dominated environment).
This is not about positive discrimination or gender stereotyping with sweeping generalisations but about acknowledging that while we should be judged as individuals irrespective of our sex, gender differences are a reality and tapping into those differences could help to shape a more balanced and effective workforce.