However, Mark Millar, creator of the comic book on which the franchise is based, has revealed that the film has benefitted from Carrey's withdrawal from promoting it.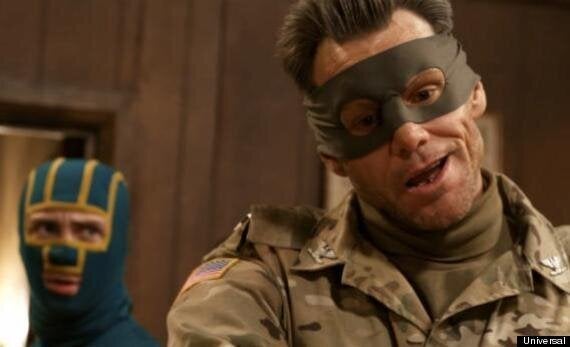 Jim Carrey has distanced himself from the promotion of 'Kick-Ass 2' following the Sandy Hook shooting
Writing in the Times on Saturday, Miller said, "Fortunately, this went out like a clarion call across the interweb, claims of too much violence in a Kick-Ass movie akin to claiming a porno has too much nudity.
"The bean counters at Universal estimate this bought us $30million in free mainstream publicity. And so it goes on."
'Kick-Ass 2', like its predecessor, tells the story of young people taking on the roles of superheroes, just without any actual special powers, and with extreme violence and swearing from its youthful protagonists.
The director of the film, Jeff Wadlow, has also defended the use of violence in the film, telling the Daily News, "We're showing that violence has consequences."
The first film courted similar controversy, particularly as its leading actress Chloe Grace Moretz was only 13 when she used the c*** word.
In an interview with the Times at the weekend, Moretz, now 16, is dismissive of the furore surrounding the language in the first film... "Just a bunch of words... so stupid."
And the violence that Carrey objected to in the second? She says, "It's fake. It's not real life. I've known the difference since I was a child. I don't believe in it. It's just saying stuff for a role."
Whether you agree with Moretz or Carrey, studio bosses, looking to increase on the $96million box office spoils of the first film, will be very grateful for the $30m free publicity Mark Miller claims Carrey to have afforded them.