A firm has stopped collecting data from people's smartphones using recycling bins after it was reported to the Information Commissioner's Office amid privacy concerns.
The move by Renew London came after it was urged by the City of London Corporation to stop collecting data from the bins immediately.
A spokesman said the corporation had taken the issue to the Information Commissioner's Office and urged the company to stop collecting data, even if it was anonymised.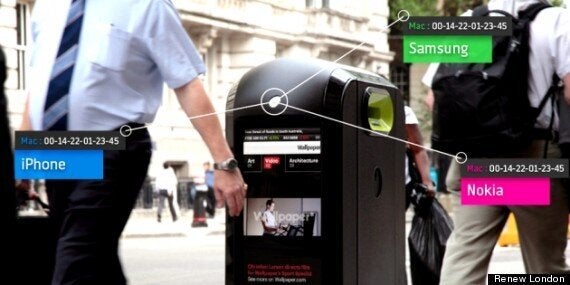 Above: Renew, which operates recycling bins around the capital, reportedly fitted 12 bins or "pods" with the technology, which tracks the unique Media Access Control (MAC) address of smartphones as they pass by.
The bins, which also have television screens showing public information, are sited mainly in the City of London.
But now the company has said it is no longer conducting trials.
In a statement, chief executive Kaveh Memari said during initial trials a "limited number" of pods had been testing and collecting "annonymised and aggregated" MAC addresses from the street and sending a report every three minutes on the total footfall data.
"A lot of what had been extrapolated is capabilities that could be developed and none of which are workable right now," he said.

"For now, we no longer continue to count devices and are able to distinguish uniques versus repeats.

"However, the process is very much like a website, you can tell how many hits you have had and how many repeat visitors, but we cannot tell who, or anything personal about any of the visitors on the website.

"So we couldn't tell, for example, whether we had seen devices or not as we never gathered any personal details."
He said further developments would not just depend on technology but on people being comfortable with interactive technology, adding: "This has always and continues to be our key concern.
He went on: "For now, simply think of the Phase I testing as a glorified counter on the street. At this stage, we were merely running a pilot with extremely limited, encrypted, anonymous/aggregated data.
"Come the time we discuss creating the future levels of protection, we can move to an improved service where we can bring better content to people."
The City of London Corporation, which provides local authority services in the area, said new developments needed more thought.
A spokesman said: "We have already asked the firm concerned to stop this data collection immediately and we have also taken the issue to the Information Commissioner's Office.
"Irrespective of what's technically possible, anything that happens like this on the streets needs to be done carefully, with the backing of an informed public.
"This latest development was precipitate and clearly needs much more thought - in the meantime data collection, even if it is anonymised, needs to stop."
Popular in the Community