The hunt is on for Britain's most wanted fraudsters, after a dramatic campaign was launched today in a bid to clamp down on criminal gangs who impersonate innocent people.
The spotlight has been put on 25 conmen whose pictures have been published after they attempted to steal the identities of UK nationals in order to apply for documents including passports and driving licences.
Using their own photos, the callous crooks then tried to impersonate others to engage in criminal activity such as money laundering, drug trafficking, fraud and illegal immigration.
Now, in an attempt to encourage the public to name and shame the identity thieves, the charity Crimestoppers along with the Serious Organised Crime Agency (SOCA) have published their pictures for all to see.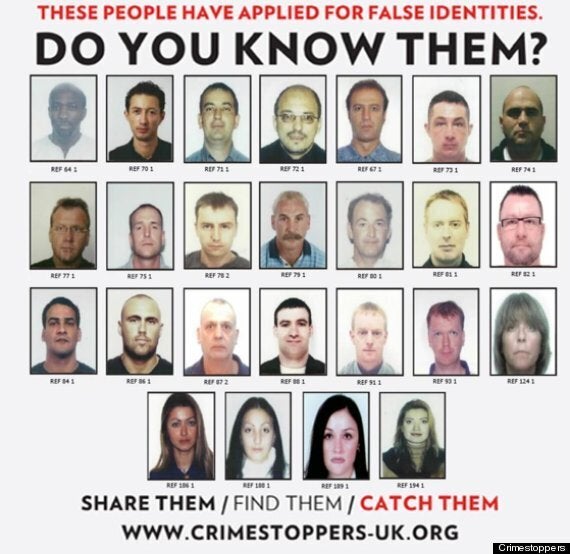 A rogues' gallery of 25 identity thieves has been published in a bid to clamp down on fraud
Nigel Kirby from SOCA said: "Be in no doubt, these fraudulently obtained identity documents are being used by criminals for criminal purposes.
"Organised crime groups are known to use them to further drugs and firearms trafficking, illegal immigration and fraud - which in turn causes harm to individuals and communities across the UK.
"It is important that these criminals are tracked down and brought before the courts."
Worryingly, the UK's Fraud Prevention Service, CIFAS, this year revealed a five per cent increase in the overall level of fraud – the highest number ever recorded.
The stark statistics also revealed that identity fraud accounted for roughly half of all frauds recorded last year.
Crimestoppers Director of Operations, Roger Critchell, said; "Crimestoppers needs help from the public to locate these criminals as soon as possible.
"Please visit our social media pages and share the faces of these identity thieves with your friends and family and help reduce the likelihood of further innocent people becoming victim to having their identity stolen by fraudsters.
"We need to protect ourselves from such criminals particularly now with data driven identity crimes now making up the vast majority of all fraud in the UK."
Anyone with information can contact the charity anonymously on 0800 555 111 or via an online form.