 Two Respect councillors who criticised George Galloway's keenness to run for London mayor have been suspended by the party.
Ishtiaq Ahmed and Mohammad Shabbir, who represent wards in Bradford, have been suspended with immediate effect.
The party has not explained the reasons for the suspensions, but an official reportedly blamed "attempts to subvert the party".
Galloway has said he is seriously considering putting himself forward for the 2016 London mayoral election, saying he had formed a committee of "political number crunchers" to consider whether he should put himself forward.
Shabbir told the Huffington Post UK he had not been given reasons for his suspension.
But he said he stood by his comments in a Guardian interview, in which he questioned Galloway's tactics.
Shabbir told the paper leaving the party was "on the cards", saying Bradford needed a full-time MP.
"Being a great orator isn't enough. You have to put the ground work in," he said.
Shabbir also told The Guardian he had little contact with Galloway, who often communicated via his aide, Ron McKay.
"All I hear is from Twitter, Facebook or Ron. It's frustrating to say the least – and disappointing for the community," he said.
He also retweeted a number of messages criticising Galloway, including one that said: "Full support to the Respect Councillors for having the guts to state truth!"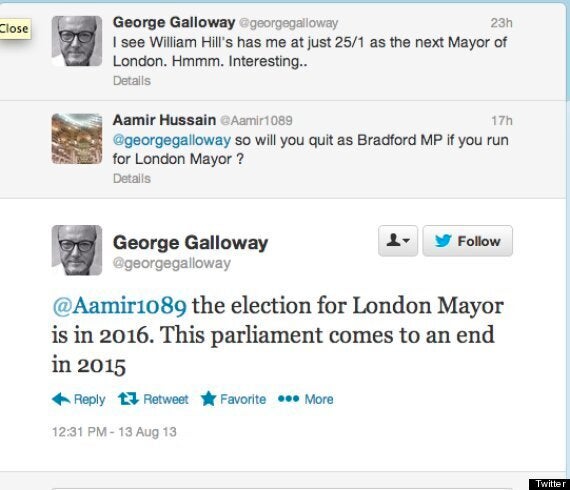 Respect has five sitting members of Bradford council.
McKay told the Telegraph & Argus it would be "unfair" to comment on the reasons for their suspension, but said there would be an investigation into "attempts to subvert the party in Bradford".
Mr Galloway's office and the Respect Party were contacted for a comment, but did not respond.