Welcome back from hols, Ed!
With the summer campaigning not having gone eggs-actly as planned for the party, the Labour leader should have shelled out for better security after he was pelted with eggs from an irate voter, causing a scramble during his walkabout in Walworth, London. (That's enough, Ed.)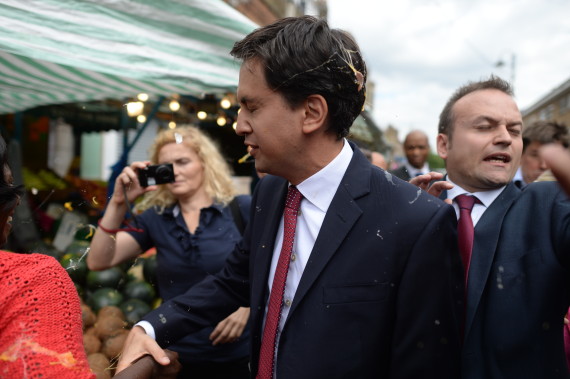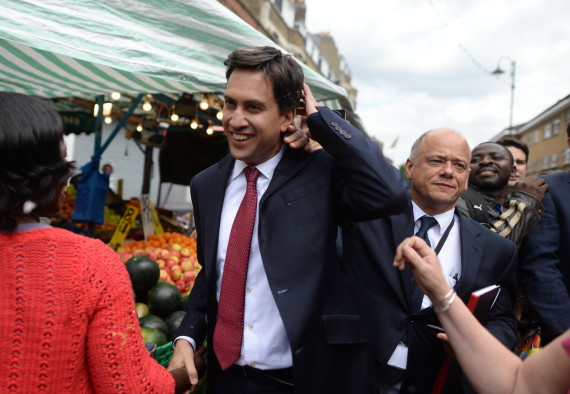 Ed Miliband, post-egging
At least one egg hit Miliband on his head and jacket. A large group of reporters, including from the Telegraph and the Guardian, were also caught in the cross-fire.
Miliband pelted with eggs, flour in culinary protest at his crêpe leadership.

— Michael Moran (@TheMichaelMoran) August 14, 2013
BREAKING: eggs. (Sorry)

— James Kirkup (@jameskirkup) August 14, 2013
Shell-shocked reporters at the scene named the man as Dean Porter, a former homeless man who had come to protest against Labour's perceived concessions to the right of the party.
Just got caught in cross fire of ed miliband getting egged. The egg thrower dean porter says labour same as Tories and on side of rich

— Rowena Mason (@rowenamason) August 14, 2013
I've got egg yolk in my left ear. I can feel it. I expect this is what it's like to be a war reporter

— Michael Deacon (@MichaelPDeacon) August 14, 2013
And to add insult to injury, Porter told Channel 4 News immediately after the pelting, that he believes it "should have been David [Miliband]" elected Labour leader.
LIKE HUFFPOST UK POLITICS ON FACEBOOK | FOLLOW US ON TWITTER
Following the incident, an aide hurriedly removed the Labour leader's stained jacket and he carried on with his tour of the market, chatting to shoppers and stallholders apparently unperturbed.
Wearing a fluorescent jacket, he was seized and quickly bundled away by market security officers.
As he was led away, he told reporters that it had been an "opportunistic moment".
"They should stop giving favouritism to the banks. They do nothing. The Government do nothing. The shadow government do nothing," he said.
"I don't believe him at all. If you are poor, you are considered a burden. All they care about is the banks."
Porter's apparent Twitter profile, where he describes himself as a "London based cycle courier. 2x London to Paris rider for @TBIF. Keen Cyclist, Athiest [sic] & anti hero", seems to put paid to his claim the egging was "opportunistic".
He wrote earlier:
Watch the news tonight, I suspect I might be on it.

— Dean Porter (@realdeanporter) August 14, 2013
Miliband was apparently unfazed, continuing to walk around the market and chat to shoppers and stallholders. He later tweeted:
Thanks to all at East St Market for the warm welcome today. Can recommend it for easy availability of eggs.

— Ed Miliband (@Ed_Miliband) August 14, 2013