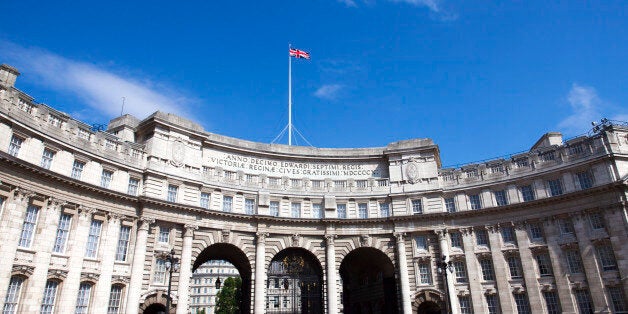 Plans to convert Admiralty Arch, the historic gateway to Buckingham Palace, into a luxury hotel and private members' club are failing to provide enough money towards building affordable housing, council officials have warned.
The arch, which cuts across Pall Mall, was bought last year for £60m by the private equity group Prime Investors Capital (PIC) on a 99-year lease, explicitly agreeing not to convert the block into apartments or a house. The five-storey building was commissioned by Edward VII in memory of his mother Queen Victoria and completed in 1912.
The firm has consulted with 119 local residents and received no objections over plans to build a club for 400 members, with flexibility for 800 on special occasions, and a 100-room hotel.
Westminster City Council planning officials said the scheme was "acceptable in heritage terms" but expressed concern about the size of the members club and how much the developers have allocated to building social housing in central London.
"The scheme does not fully comply with the council's policy on affordable housing or planning obligations for viability reasons," the document reads.
PIC has suggested paying £600,000 towards providing low-cost housing, with a further £100,000 towards public art. However, council officials have questioned whether the £100,000 would be better spent on more housing.
"This compares to a policy-compliant sum of £1m for affordable housing and £824,563 for other [public spending] obligations," the document says.
The council's analysis will set the tone for a debate over the redevelopment next Tuesday, as officials raised concerns about the stresses the redevelopment could put on local residents.
"The cumulative impact of these entertainment uses could be harmful to residential amenity, local environmental quality and the character and function of the area," said the report. "A condition is therefore recommended to limit the capacity of the club to 300 persons."
A PIC spokeswoman said the firm was "pleased with the planning report and the overall recommendations on the Admiralty Arch application".
"The principal aim of our proposal is to identify and enhance the heritage values of Admiralty Arch through careful restoration and to secure its long term future."