Purple and white balloons, onesies and messages of support lined the aisle of the church where teenager Hannah Smith's funeral took place on Friday.
Hundreds of mourners gathered today to celebrate the life of the 14-year-old who died after suffering abuse at the hands of cyberbullies.
Hannah was found hanged in her bedroom at the family home in Lutterworth, Leicestershire, by her sister two weeks ago.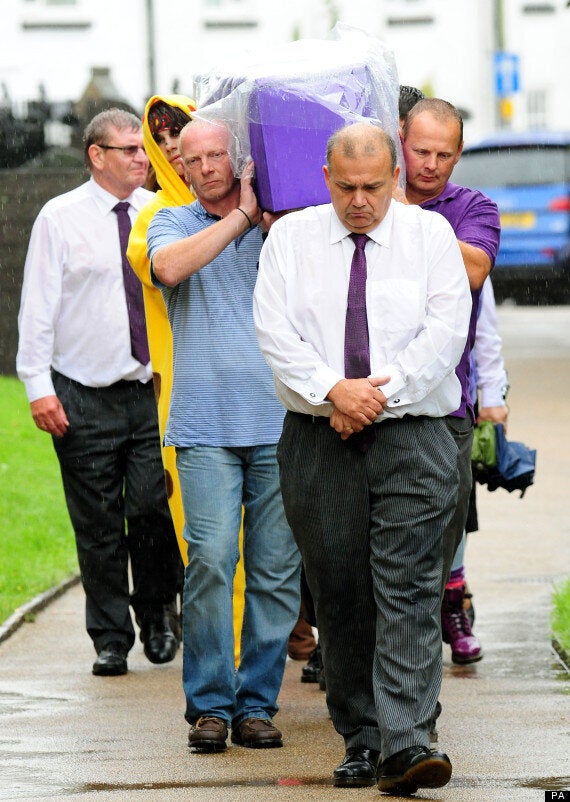 Hannah Smith's father carries his daughter's purple coffin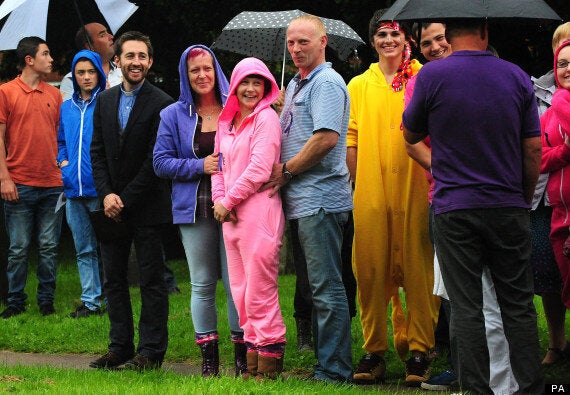 Hannah Smith's sister Joe (centre) with father David (centre right) and stepmother Deborah Smith (centre left)
More than 400 mourners arrived, dressed in bright clothing and onesies at the family's request, at St Mary's Church in the town for her funeral.
Hannah's father David Smith, dressed in a blue T-shirt and jeans, was among those who carried a purple coffin with "I love you" on the side out of the back of a blue Audi Q7 into the church as heavy rain poured down.
A poster reading "Be Happy for Hannah" hung from a lectern with a picture of the teenager as the Rev Charlie Styles led the service to celebrate the teenager's life.
Hannah's coffin was carried into the church to In The Air Tonight by Phil Collins.
Her sister, Jo, 16, walked behind the coffin, consoled by her stepmother, Deborah Smith.
During the service, there were readings by Nora Parker, headteacher of Lutterworth High School, and Hannah's cousin, Ben Hubbard.
Say It Right by Nelly Furtado, one of the teenager's favourite songs was also played.
Hannah's coffin was carried out to One Step Beyond by Madness before the congregation gathered on the grass outside the church carrying purple and white balloons from inside.
The balloons were then released into the sky after a count of "1-2-3 - Goodbye" from Mr Styles.
For confidential support call the Samaritans in the UK on 08457 90 90 90, visit a local Samaritans branch or visit www.samaritans.org