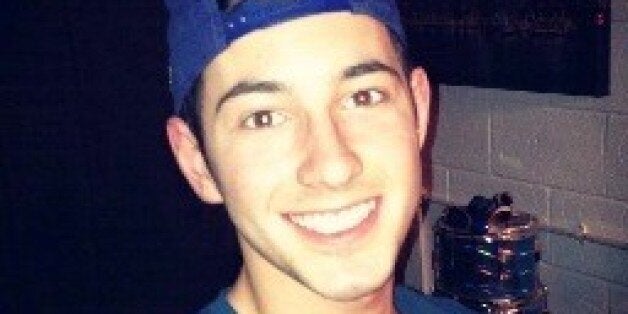 The family of a British teenager who died after falling from the ninth floor of a Spanish hotel claim he was chased by a 'mystery' man before his death.
Thomas Ousby, 19, a film student, died in Magaluf, Majorca, on August 1.
The cause of his fall from a fire escape is unknown and his family have urged anyone with information to come foward.
The aspiring model and drummer was not staying at the four-star Atlantic Park hotel but at an apartment complex nearby.
Today, his father John Ousby said there was a lack of information from the authorities.
He told ITV's Daybreak: "It is a complete mystery.
"We know from text messages that he was sending throughout the night that we can actually put him in his apartment at 6am.
"But what made him leave the apartment, we have heard conflicting stories.
"He was found without shoes and socks...we have a 35-minute window which we just can't account for.
"We believe that something must have happened either at ground level or within the hotel."
Mr Ousby said the family were told that Tom, of Uxbridge, west London, and a "maintenance guy" had a verbal exchange.
He said they have also received a message from a girl at the hotel that "Tom was being chased by the maintenance guy, which completely changed things for us".
The teenager was working in the party resort promoting bars and boat trips.
His mother Leigh Ousby told the programme she was devastated - but not knowing what happened to her son was making his loss even harder.
She said: "The information we have, we have found out purely through news sites and social networking sites.
"We have not actually been told any formal information as to how he was found.
"One story says paramedics battled for an hour (to save him) and another says he was dead at the scene."
Tom's brother Jake said the Foreign Office had given them no help.
The Foreign Office responded: "We were saddened that the family of Thomas found out the distressing news prior to being officially notified by the UK police. We always do all we can to ensure families are notified as soon as possible.
"We continue to provide consular assistance and remain in regular contact with the family, providing updates on any information we receive from the authorities. The Spanish judicial police are investigating the death.
"We are in contact with them to ensure that they are aware of our interest in this case and the importance of keeping the family updated. We have advised the family to appoint a local lawyer who is best placed to gain information about the investigation as well as raise formally any concerns they may have."