Models wearing just caps, boots and underwear have taken part in an anti-speeding initiative in Russia.
In an online video hosted by Ruptly.tv, the girls are seen holding up speed limit signs whenever cars approached on the stretch of road in the Nizhniy Novgorod area, east of Moscow.
The stunt, organised by NGO Autodvijenie and backed by local police, was regarded as a success, though local media outlets point out it was mainly men who slowed down. (Funny, that.)
Scroll down for video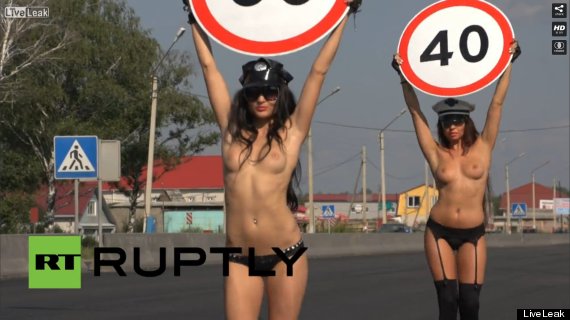 Would this make you slow down?
Statistics provided by Russian traffic police state there were 203,597 road accidents in 2012.
Of these, 27,991 people died and 258,618 were injured. One of the most frequent violations was speeding, Dp.ru reports.
The event was organised ahead of a change in law which will see drivers only fined for exceeding the speed limit by 20km/h, instead of 10km/h, as was previously the case.
A similar initiative took place recently in Denmark – with a group of topless women calling themselves the Speed Control Bikini Bandits also wielding speed limit traffic signs.
"Believe it or not the girls actually helped control the speeding epidemic in the country. The one downside is that they cause the occasional traffic jam," Wgrd.com reported.