In the eyes of the world, two Russian athletes shared a kiss on the podium after winning a gold medal in the World Athletics Championships.
The duo had just helped claim gold in a thrilling 4x400m race, narrowly pipping the United States team.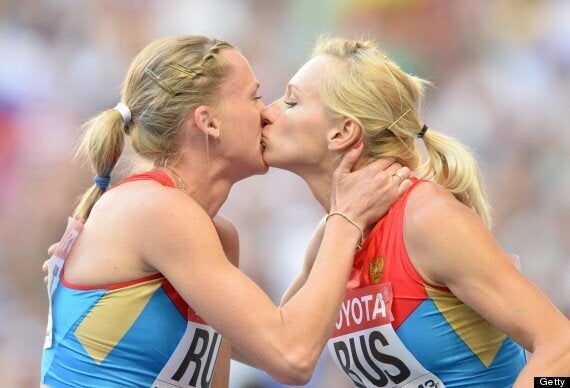 Russia won gold in the women's 4x400m relay
It comes after another Russian gold medallist, pole-vaulter Yelena Isinbayeva, retreated from her stance defending the new law, which makes it illegal to give under-18s information about homosexuality.
There was an angry reaction when 31-year-old Isinbayeva criticised athletes who had protested against the crackdown.
"It's disrespectful to our country, disrespectful to our citizens because we are Russians," she said.
SEE ALSO: Stephen Fry: An Open Letter to David Cameron and the IOC
"Maybe we are different than European people and people from different lands.
"We have our law which everyone has to respect. When we go to different countries, we try to follow their rules. We are not trying to set our rules over there. We are just trying to be respectful.
"We consider ourselves, like normal, standard people, we just live boys with women, girls with boys... it comes from the history."
Amid calls for her to be stripped of her Olympic ambassadorial role, she then said she had been "misunderstood", releasing a new statement.
"What I wanted to say was that people should respect the laws of other countries particularly when they are guests
"But let me make it clear I respect the views of my fellow athletes, and let me state in the strongest terms that I am opposed to any discrimination against gay people on the grounds of their sexuality (which is against the Olympic charter)."
Related