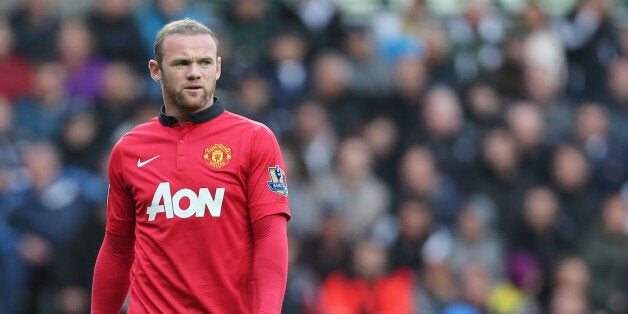 Michael Carrick insists Wayne Rooney remains an integral figure in the Manchester United squad after his fruitful cameo at Swansea City on Saturday.
Rooney was introduced just after the hour mark for the wasteful Ryan Giggs with United 2-0 up and assisted both Robin van Persie and Danny Welbeck's second strikes in the 4-1 win.
Surprisingly, his name was chanted by a vocal contingent of United's travelling supporters and Rooney acknowledged them when warming up, but declined to celebrate either Van Persie or Welbeck's goals and was the only player not to applaud the 3,000 fans at the end of the match. Rooney applauded United fans when warming up
Chelsea manager José Mourinho seems intent on tabling a third bid for the 27-year-old, but Carrick, a close friend of Rooney's and one of only three teammates in attendance for his 2008 wedding, remained positive about the striker's future at United, despite his desire to leave.
"Wayne is a great player," said Carrick. "He is one of the lads. He is one of us and we all stick together.
"I didn't hear the fans but he has given this club an awful lot. The fans support him and so do we. Carrick was his usual steady self at Swansea
"He came on and looked good. He set up two goals. That is what he is all about."