Daniel Seamon, director-general of the Public Diplomacy and Diaspora Affairs Ministry, said he was "sick" of "self-righteous" Japanese and international commemorations of Hiroshima and Nagasaki victims, in posts published by Israel's Haaretz newspaper.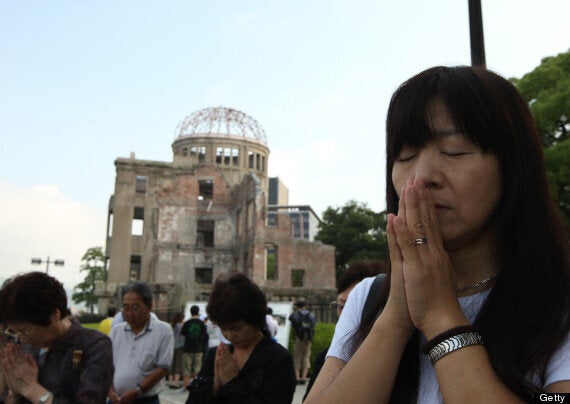 Japanese people pray for atomic bomb victims in front of an Atomic Bomb Dome at the Hiroshima Peace Memorial Park
"Hiroshima and Nagasaki were the consequence of Japanese aggression. You reap what you sow.
"Instead, they should be commemorating the estimated 50 million Chinese, Korean, Filipino, Malay, Vietnamese, Cambodian, Indonesian, Burmese and other victims of Japanese imperial aggression and genocide," he said.
Ya'akov Amidror, national security advisor to Prime Minister Benjamin Netanyahu, om Tuesday issued a formal apology to the Japanese ambassador, the newspaper reported.
And Israel's deputy ambassador in Tokyo, Peleg Levy, has met with several senior officials at the Japanese Foreign Ministry, expressing Israel's regret over the incident, in an attempt to pour oil on troubled waters.
Seaman has been suspended from his
The slur received wide attention in the Japanese media, with thousands of Japanese citizens writing to the Israeli embassy.
Other posts read: "Does the commencement of the fast of the Ramadan means that Muslims will stop eating each other during the daytime?"
The National Information Directorate said when the post went viral last week: "Danny Seaman's statements on Facebook are unacceptable and do not express the view of the Israeli government.
"The directorate instructed Seaman to immediately refrain from making such statements."
Some in Israel have defended Seaman's right to make offensive statements. Stephen Plaut, a lecturer at Haifa University, wrote in an op-ed for Arutz Sheva: "Try as I might, I just cannot see very much in all the above with which to disagree!
"So now the Left is leading a campaign to insist that Seaman be silenced, denied freedom of speech, and removed from the Netanyahu public relations campaign initiative! Clearly. anyone who can get Haaretz [a left-wing newspaper] this upset must be a truly great moral leader and a figure for admiration."
Related