Female high school students should be required to undergo virginity tests to discourage them from "negative acts" including premarital sex and prostitution, an education official in Indonesia's Sumatra island has announced.
Muhammad Rasyid, head of the education office in South Sumatra's district of Prabumulih, has already proposed a budget for the plans and hopes to begin the tests next year, the Jakarta Post revealed.
"Whether a woman wants to stay a virgin or not, that's part of her rights as a woman," he was quoted by Kompas newspaper as saying.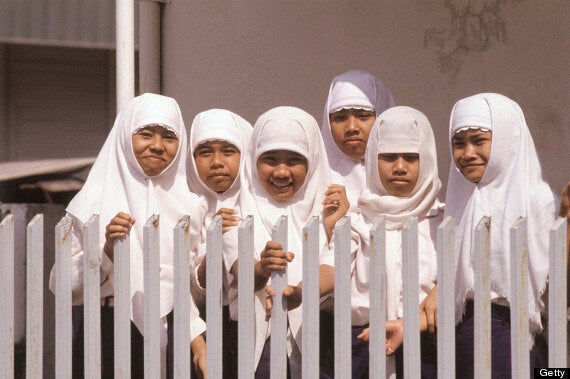 Muslim schoolgirls in Java, Indonesia (file picture)
He added: "But on the other side, we don't want the female students to plunge into negative acts."
He acknowledged his idea was controversial, but defended it as "an accurate way to protect children from prostitution and free sex".
Ardiansyan Fikri, the deputy mayor of Prabumulih, said authorities would not support Rasyid's proposal and there was little chance of it coming to fruition.
A spokesman for the National Commission for Child Protection in Jakarta suggested Rasyid had proposed the test in order to appeal to the more conservative members of the community.
Aris Merdeka Sirait added it would be pointless, explaining: "Loss of virginity is not merely because of sexual activities. It could be caused by sports or health problems and many other factors. We strongly oppose this very excessive move."