Neville, who won eight Premier League titles, three FA Cups, two League Cups and a Champions League winners' medal, said the Scot "demanded excellence and hard work" and that the "players bought into him massively".
Speaking at the Edinburgh Television Festival, Neville stated: "We got to the point whereby you're almost 24 clones really in some ways".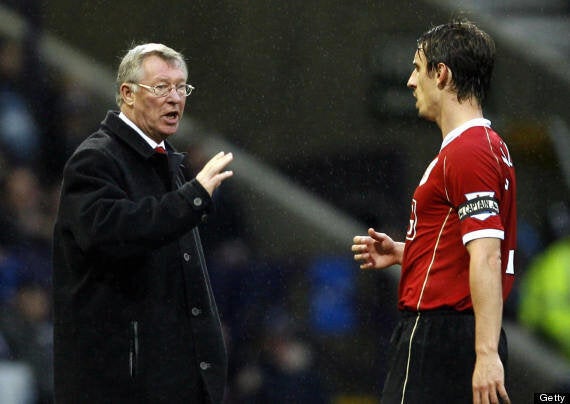 Ferguson gives Neville instructions at Bolton in 2006
Describing Ferguson's pre-match team talks, he added: "Sometimes they would be nothing to do with football.
"It would be about a dockyard, it could be about growing up, could be about a gentleman he met that was 78 last week and is going into work as much as he's ever done.
"He was a psychologist really. He didn't believe in psychology but he was a psychologist.
"In every message he gave you he was trying to affect your mind and get you into a positive mindset."
Neville, 38, joined Sky Sports and admitted making his debut as a TV pundit was "the most nerve-wracking" experience of his life.
He said: "I was nervous as a footballer at times, but I was more nervous doing Monday Night Football.
"It was the most nerve-wracking experience I'd had in my life along with my driving test."