What would you most desperately want if you were awaiting trial in a Peru prison?
Apparently baby oil, Pringles and hair remover are among the ultimate necessities for Melissa Reid and Michaella McCollum Connolly, who have conducted a list more suited for a sleepover than survival in a foreign jail.
The women face a maximum prison sentence of 15 years after they were arrested on suspicion of trying to smuggle cocaine worth £1.5 million out of the country.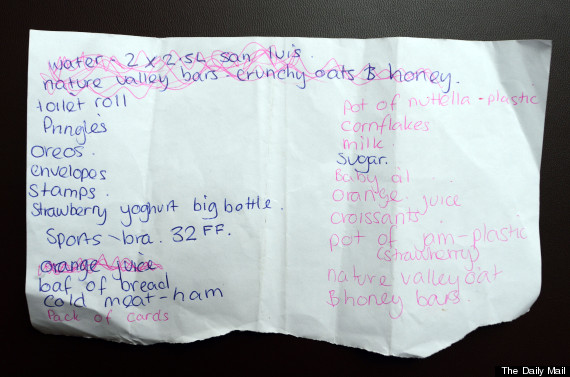 The prison wish list of Melissa Reid and Michaella McCollum Connolly
The 'Peru two' gave Melissa's father Billy the list on Monday night, the Daily Mail reported, in an arguable display of delusion at their fate.
Also included on the list was Nivea moisturiser, croissants, a pack of cards, oreos and a sports bra - size 32FF.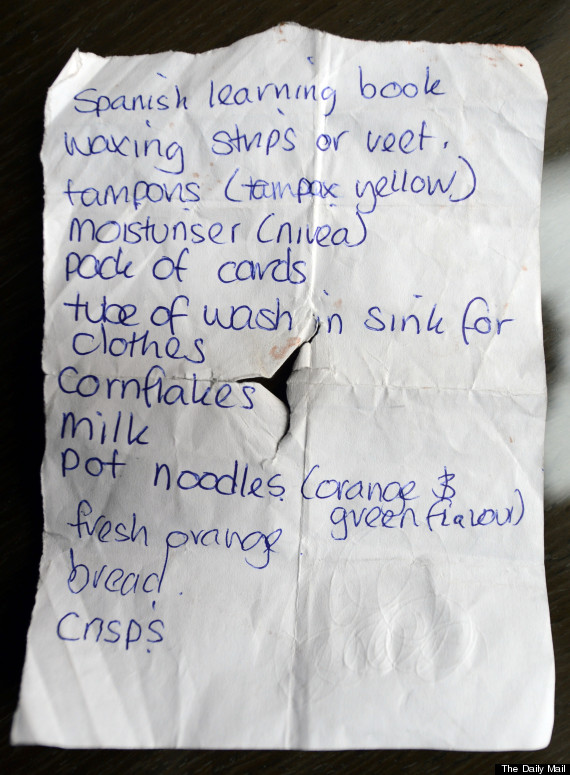 Melissa Reid and Michaella McCollum Connolly wrote out list of items
But before Billy could even buy any of the goodies, the pair were charged with drugs trafficking and sent to a "horrific" cell beneath a courthouse, where they claim they were given no access to food or bedding.
The pair were formally charged with drug trafficking and were refused bail during a public court appearance last night. The pair attend their hearing at court
The women, who claim they were forced to carry the drugs by an armed gang who threatened their family members, could now spend up to three years in prison awaiting trial.
McCollum's lawyer Peter Madden said the pair were effectively beginning a prison sentence, as they were led away for an unknown amount of time for their trial.
Madden has maintained his client will plead not guilty and described the conditions she is being held in as "unacceptable".