We're so used to seeing Steve Carell in earnest, try-hard Everyman guise, it comes as a shock to find him in far less appealing guise as a prospective step-father in 'The Way, Way Back'.
WATCH: Amanda Peet and Toni Collette demonstrate how to embarrass a teenage child in our Exclusive Clip from 'The Way Way Back' above
Right from the start of the film when, in the car on their way to his beach house for the summer, Trent (Carell) tells his girlfriend's introverted son Duncan (Liam James) that "I think you're a 3" (presumably out of at least 10), the lines in the sand have been drawn.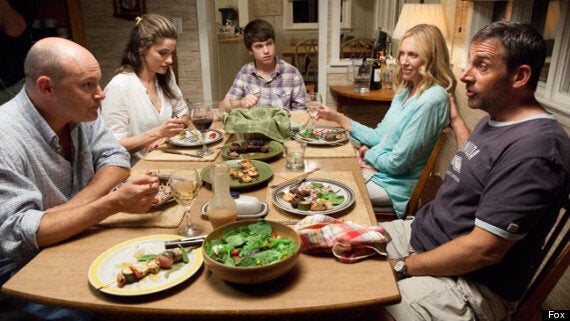 A holiday family descends into thinly-veiled hostility in 'The Way Way Back'
It's a mark of Carell's screen skills that we buy the same man who tried to lose his virginity at 40 as this slippery, untrustworthy character, all smiles on the surface, all deeply recognisable passive aggression underneath.
Carell stars with the ever-appealing Toni Collette in 'The Way Way Back' from the team who brought us 'Little Miss Sunshine', and fans of Alison Janney (West Wing) will enjoy her scene-stealing as a hedonistic neighbour (for which, read 'soak') Betty.
Sam Rockwell is Owen, the laid-back manager of the local water park who, despite his own weaknesses, helps Duncan find his way.
'The Way Way Back' is in UK cinemas from 28 August. Watch the trailer below...