Asaram Bapu "was booked on charges of forcing the teenager into an unnatural sex at a Jodhpur ashram" on Wednesday, the Hindustan Times reports.
The girl has filed a complaint and undergone a medical examination, the paper added.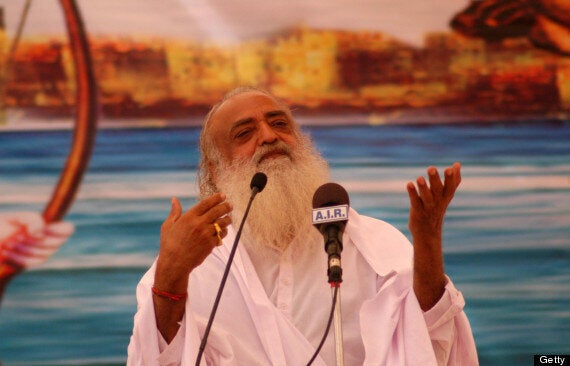 Asaram Bapu is being investigated over allegations he raped a 16-year-old girl. Earlier this year he suggested the Delhi gang rape victim was equally responsible for the attack that cost her life
The incident is said to have taken place on 15 August at Bapu's ashram, where the girl had been sent to recover from an illness, the Times of India says.
Bapu's spokesman Sunil Wankhede says the guru denies the charges.
He told reporters: "The girls says the incident took place on 15 August at Jodhpur. But Asaram Bapu left Jodhpur on 11 August, so how could this be true?"
Bapu caused outrage in January after discussing the Delhi rape victim, who died on December 30, with his followers.
He said upon being confronted by her attackers, the woman: "...should have taken God's name and could have held the hand of one of the men and said I consider you as my brother and should have said to the other two 'Brother I am helpless, you are my brother, my religious brother.'
"She should have taken God's name and held their hands and feet... then the misconduct wouldn't have happened."
Bapu's comments sparked political condemnation across the spectrum, with the Indian People's Party (BJP) calling them "regrettable, deeply disturbing and painful."
He is said to have added: "The accused were drunk. If the girl had chanted hymns to Goddess Saraswati and to Guru Diksha then she wouldn't have entered the bus."
Bapu's spokesman Niam Dubey insisted her client has been misquoted, adding: "He just asked his women followers to avoid such situation.
"He was only suggesting that women should try their level-best to come out from such situation by using diplomatic ways.
"Yes, he said that the girl had made a mistake by taking an empty bus in night. If she had taken 'Matra-Diksha', the God has might save her anyhow."
Five men were formally charged with the abduction, gang rape and murder of the unnamed 23-year-old student, with the first verdict set for 31 August. The verdict on the case of a sixth juvenile suspect is also due.
Popular in the Community