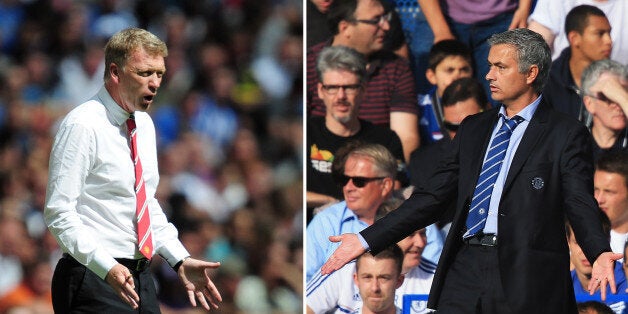 When Manchester United and Chelsea were in Bangkok at the same time during pre-season, José Mourinho was pictured waving from the Blues' bus. A bland snapshot, someone suggested he was passing United's hotel in a look-what-you-could-have-had stunt.
Mourinho will be explicitly reminded United overlooked him to succeed Sir Alex Ferguson by the Stretford End on Monday. A new banner championing David Moyes, with the slogan "The Chosen One" will be unfurled on what is an appropriate occasion as Chelsea venture north. It is a tacky and small-time banner but it will resonate with Mourinho, who flirted outrageously with the Premier League champions.
So set on the challenge of following Ferguson was Mourinho he happily sat down for a conversation with MUTV while Real Madrid coach in February and happily informed the world he had a subscription for United's channel. Four years earlier, he had entertained Hayley McQueen - then working for MUTV - at Internazionale's training ground.
His respect for Ferguson is enormous. When a journalist secured an interview with Mourinho at Inter for his biography on the Scot, he was encouraged by how open his interviewee was, who briefly exited the room to take a call. It was Ferguson. Mourinho's exchange would be the cut edition in the final edit.
Mourinho even offered a sympathetic pat on the head for Nani after his bewildering red card in March and opined "the best team lost" after Madrid won the round-of-16 Champions League tie in Manchester. It didn't suit him.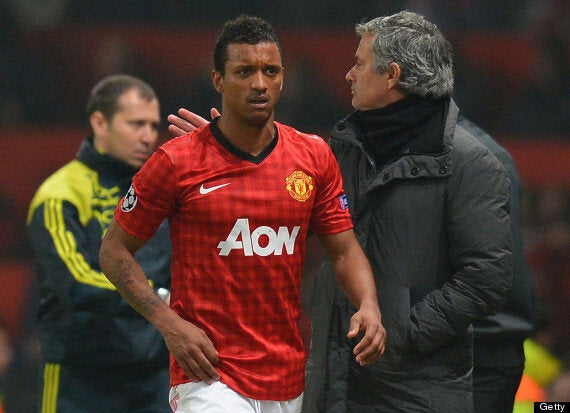 Mourinho consoles Nani after his red card
And his mischievous ways weren't forgotten at Old Trafford. Sir Bobby Charlton sporadically stuck his oar in to dispel the possibility of Mourinho managing the club, and it was telling the club carried quotes from him alongside Ferguson and former chief executive David Gill when Moyes' appointment was confirmed.
In a blatant barb aimed at Mourinho, Charlton said: "We have secured a man who is committed to the long-term and will build teams for the future as well as now. Stability breeds success."
Mourinho's agents made an 11th hour attempt in a bid to persuade United to re-consider, but unknown to them, Ferguson had told Moyes he would be succeeding him. "I wasn't given any choice," Moyes admitted.
If that was a Hollywood pass for the Scot to receive then the Wayne Rooney issue was a hospital ball from Ferguson, and Mourinho has challenged his counterpart aggressively.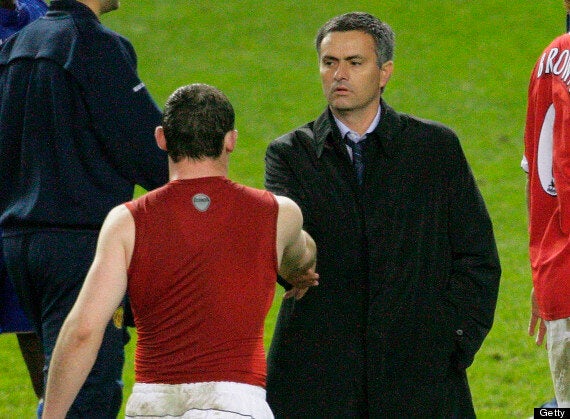 Mourinho remains determined to sign Rooney
Moyes bemoaned (possibly with a hint of reverse psychology) United's opening fixtures but Mourinho will be delighted to be travelling to Old Trafford in August. Not only is his record at the ground good (three wins, two defeats and two draws with four teams) but he could ridicule United's appointment of an unsuccessful manager ahead of him in his own inimitable way.
Moyes might be the chosen one but he is also the trophyless one, which Mourinho has diplomatically declined to highlight so far. His ego would have been bruised after United chose Moyes, who had become stagnant at Everton, but he has already charmed a fawning press pack and is "happy". Moyes and Mourinho after Chelsea's win at Everton in February 2005
His second marriage with Chelsea is one of convenience, though. Mourinho was Roman Abramovich's second choice (gallingly, behind former foe Pep Guardiola) and Chelsea were Mourinho's second choice, but it is a matrimony that could breed success again and the love-in and lockdown versus Hull last week was an ominous statement of intent.
Fresh from one of the finest United away wins in recent years, Moyes will be involved in one of those big four tussles he aspired to compete in as Everton manager. He faces a manager he has never defeated on eight occasions and one who has spent millions more than him in the transfer window again.
At Everton, Moyes once complained the chasm between the Toffees and Manchester City was so great it was like "taking a knife to a gun fight". He could always give Mourinho a Glasgow kiss, or show him what he could have managed.
Popular in the Community