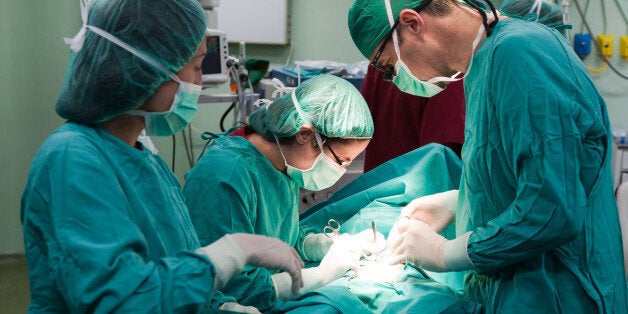 NHS patients could be sent to India to be treated cheaply it was warned last night, with as many as 20 NHS trusts planning lucrative deals with health providers in India to boost their income.
Patricia Hewitt - Labour's former health secretary, who now chairs the UK India Business Council - told the Health Service Journal (HSJ) that the move would bring mutual benefit to the UK and India who would be able to share expertise.
She said the contracts, which would open up profitable businesses abroad, could close the struggling NHS' funding gap, which is projected to be as large as £30bn by 2020.
Dr Kailash Chand, deputy chairman of the British Medical Association, called the proposals a "huge scandal".
"I am extremely concerned that the next step will be patients being flown to India for treatment because these trusts think that it could save them money.
Raising fears that British hospitals could suffer if staff are sent abroad, Dr Chand said patients could be put at risk.
"Doctors and consultants should not be sent to India to make money for cash-strapped trusts," he said.
The Government today denied suggestions that the plans could lead to NHS patients being flown to India for cheaper treatment.
"Our ambition is to get as many [NHS trusts, health companies and charities] there as we can," Ms Hewitt told the HSJ.
"I would certainly hope by 2015 we will be able to say... here is what they are doing and selling and here are the benefits that are accruing both to Britain and to India."
In a launch last year to link UK health providers with businesses overseas, it was announced some of Britain's best-known hospitals were to set up profit-making branches overseas.
Partnerships have been announced including King's College London and three London NHS trusts who are to set up clinics in Abu Dhabi and Dubai.
A Department of Health spokeswoman said: "We have no intention to send NHS patients to India for treatment.
"NHS patients will always come first, but we should help and support the health service to compete internationally for the benefit of its patients in England.
"Under no circumstances will the quality of NHS services at home be compromised by the sharing of NHS expertise abroad."
A UK India Business Council spokesperson said: "There is absolutely no truth in the suggestion that NHS patients will be treated in India.
"The UKIBC and Healthcare UK are facilitating discussions between NHS Trusts and Indian healthcare providers which are focussed on the sharing of skills expertise, medical technology and IT support services.
"These discussions are in very early stages and the objective of them is to improve healthcare services in both the UK and India."