What's that noise? It's the squeak of brand new bank holiday barbecues being wheeled back into the garage...
It's been a somwhat soggy start to the Bank Holiday weekend, heavy rain has blighted Saturday for much of the eastern side of the country, but only the occasional shower for those in the western counties.
There was torrential rain for music lovers at Leeds Festival in Bramham Park, starting late in the evening and continuing through the night.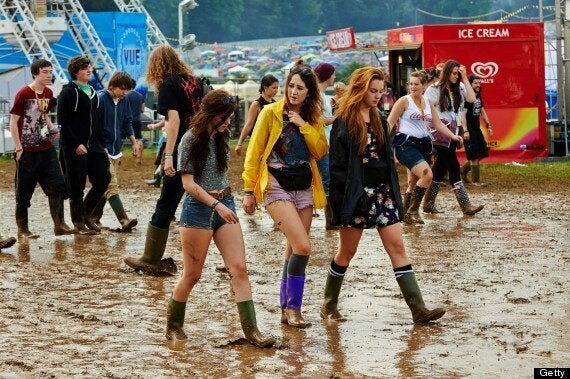 Festival goers enjoy the atmosphere during Day 2 of Leeds Festival 2013
Festival staff managed to keep the arena passable by covering the ground in woodchips, and as the West Yorkshire site opened to welly-wearing revellers on Saturday morning the mud was at least manageable.
Charlotte Price and Tom Hinchcliffe, both 18 and from Bramham, said they were excited about seeing headliners Green Day and would not be put off by the weather and muddy conditions.
Charlotte said: "I don't think it'll put anyone off. If you spend 200 quid you want to be here."
Conditions mean it will be a dreary kick-off to Notting Hill Carnival on Sunday with the loud, colourful procession met with rain, improving slightly in the afternoon. If past events are anything to go by though, it's unlikely to put people off.
Rain falls at York racecourse on August 24, 2013 in York, England
Brendan Jones, senior forecaster with MeteoGroup, the weather division of the Press Association, said rainfall overnight included 40mm (one and a half inches) around York, including 15mm in one hour at 6am.
"Most of the eastern side of England and parts of eastern Scotland saw rain overnight, and there have been some lively thunderstorms today in Sussex, Essex and Yorkshire," he said.
"We expect the rain to intensify in the south east during the afternoon and to continue until tomorrow lunchtime, tailing off then to give a drier afternoon and evening.
"The west will remain dry with one of two exceptions and east and west should both have warm weather on Bank Holiday Monday, with temperatures rising as high as 25 or 26 in the London area."