David Cameron and Barack Obama have moved the West a step closer to decisive intervention in Syria, pledging a "serious response" if Bashar Assad's Syrian regime is proved to have deployed chemical weapons.
The Prime Minister and the US President discussed the growing crisis by telephone on Sunday night and have ordered officials to examine "all options".
Obama had previously suggested that the use of chemical weapons in Syria would be a "gamechanger" and was a "red line".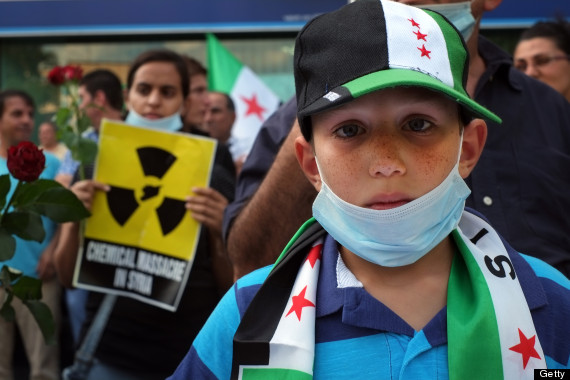 Syrian immigrants living in Bulgaria protest against the recent massacre of men, women, and children allegedly killed in a chemical attack east of Damascus
But his rhetoric has stopped short of such terms since pictures of the deadly attack in the Damascus suburb emerged on Wednesday. Aid organisations said that more than 350 people - many of them children - died due to the effects of neurotoxins this week. Rebel groups suggested the number dead could be as high as 1,300.
A Downing Street spokesman said the leaders spoke for around half an hour.
"They are both gravely concerned by the attack that took place in Damascus on Wednesday and the increasing signs that this was a significant chemical weapons attack carried out by the Syrian regime against its own people," he said.
"The UN Security Council has called for immediate access for UN investigators on the ground in Damascus. The fact that President Assad has failed to co-operate with the UN suggests that the regime has something to hide.
"They reiterated that significant use of chemical weapons would merit a serious response from the international community and both have tasked officials to examine all the options.
"They agreed that it is vital that the world upholds the prohibition on the use of chemical weapons and deters further outrages. They agreed to keep in close contact on the issue."
The UN's top disarmament expert, Angela Kane, arrived in Damascus on Saturday, where she will attempt to negotiate access to the site of the attack for a UN inspection team.
Cameron has committed to a Commons vote before the UK will back intervention.
Foreign Secretary William Hague has previously refused to rule out any options for the West to prevent further killing, saying it was "not something that a humane or civilised world can ignore".
However, there is speculation that the US, Britain and France could back limited airstrikes to demonstrate that deployment of chemical weapons will not be tolerated.
Cameron also spoke to Canadian PM Stephen Harper, who agreed that the "international community must respond appropriately".
Medecins Sans Frontieres said hospitals it supports in Syria treated some 3,600 patients with "neurotoxic symptoms", 355 of whom died.
It said the patients had arrived in three hospitals in the Damascus area on Wednesday. Staff described people suffering from convulsions, extreme salivation, contracted pupils and sight and respiratory problems.
However, the organisation stressed it could not "scientifically confirm" the use of chemical weapons.
Dr Bart Janssens, MSF's director of operations, said: "Medical staff working in these facilities provided detailed information to MSF doctors regarding large numbers of patients arriving with symptoms including convulsions, excess saliva, pinpoint pupils, blurred vision and respiratory distress."