People with crippling illnesses like cystic fibrosis and multiple sclerosis are being found fit for work in tests branded "farcical" by charities.
The controversial Work Capability Assessment "defies belief", Parkinson's UK said after figures showed that 45% of people with four progressive diseases were being deemed capable of working.
The government insisted it was important not to "write people off".
The study looked at people with cystic fibrosis, multiple sclerosis, Parkinson's or rheumatoid arthritis who applied for Employment Support Allowance between 2008 and 2011.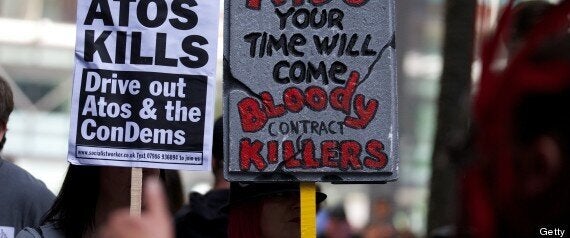 There have been protests against the Atos tests
Some 45% were deemed able to recover from their condition to the point where they can look for work, according to research from Parkinson's UK, the Cystic Fibrosis Trust, the MS Society and the National Rheumatoid Arthritis Society.
The charities called for ministers to rethink the "hugely flawed" system.
The assessments are carried out by Atos Healthcare on behalf of the Department for Work and Pensions (DWP).
Caroline Hacker, head of policy at Parkinson's UK, said: "This is the latest in a long line of unspeakable failures by Atos Healthcare and the Government when it comes to supporting those who need it most.
"To set up a system which tells people who've had to give up work because of a debilitating progressive condition that they'll recover is farcical and simply defies belief.
"These incomprehensible decisions go to show that many assessors, and those who rubber-stamp the decisions in Government, don't apply the most basic understanding of the medical conditions they are dealing with."
Jim Grimwood had been a computer programmer for 20 years when he was forced to give up work because of Parkinson's disease.
The 58-year-old, from the North Pennines, said: "It was six years after being diagnosed with Parkinson's that I was finally forced to give up work, so it can hardly be said that I rushed into it. After the first ESA assessment they said I should be able to return to work within three months.
"I was flabbergasted, as was everyone who knew me. Late last year I applied for ESA again as my Parkinson's had got worse. I was told that I should be able to return to work in 18 months. I asked to be reassessed but the DWP refused to change their decision.
"Decision-makers either fail to grasp, or choose to ignore, the practical difficulties involved in managing a condition which affects one's abilities to do even basic things every day, without the added burden of trying to do a job of work and comply with the terms of a contract of employment."
A Department for Work and Pensions spokesman said: "It's ridiculous to suggest that we think people with degenerative conditions will 'recover'.
"However, it is important that we don't simply write people off. There is strong evidence that working can be beneficial for many people who have a health condition - and as Parkinson's UK themselves point out, many people with Parkinson's continue to work for many years after their diagnosis.""
An Atos Healthcare spokesman said: "Our healthcare professionals are trained in the assessment of chronic and progressive conditions such as Parkinson's and understand that, sadly, some people's conditions will only get worse over time.
"However, the advice we are asked to give DWP concentrates on how individuals are affected by their illness at present."
Related