One of the men can be seen holding a drill and another has a canister of insulation foam.
Detectives believe the men sprayed the foam under all of the shutters which cover the doors and windows to seal the property so the fire would take hold.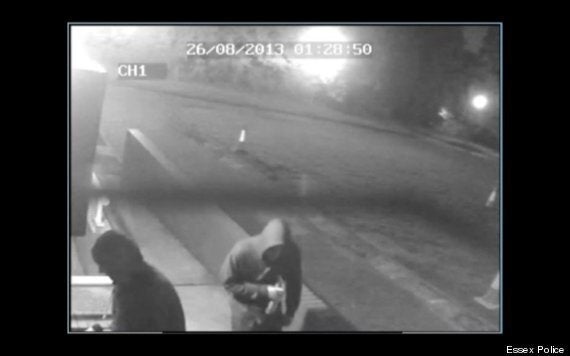 CCTV of the incident at Harlow Islamic Centre
Officers were called to the Harlow Islamic Centre in Paringdon Road after reports of people trying to set fire to the building.
No one was hurt in the incident, which is said to have taken place between 10.30pm and 4am.
Zia Rehman, the Islamic Centre's vice-chairman, said there had been a "concerted effort" to start a blaze.
"Every entrance has been sealed with some kind of foam to allow the fire to take hold and set the building alight," he said.
Rehman said that, although police still had to determine the motives behind the apparent attack, he suspected it may have been due to a climate of anti-Muslim prejudice.
"We have been working very hard within the local community, building bridges, and we were hoping we wouldn't have this kind of problem, but in the current climate there are elements within society that are not happy and there are issues.
"It's unfortunate and we are very saddened."