A brazen thief had the audacity to tell his would-be victims they ought to "get some manners" after they bravely fought him off.
Police are appealing for information after two women refused to be victimised by the man, who tried to steal cash they were withdrawing from an ATM in Central Road, Worcester Park.
The women, aged 25 and 27, were taking money out of the cash machine, while being closely watched by a man on a bicycle immediately behind them.
As the notes appeared from the machine, the cyclist lunged forward to grab the cash. But, unluckily for him, the brave women punched him in the face, put him in a head lock and dragged him off his bike.
He then spat at one of the girls, before cycling off defeated.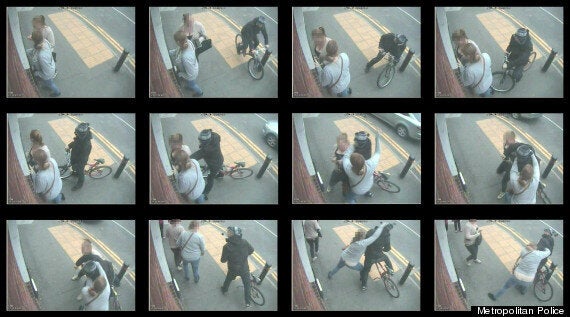 The thief attempted to steal the women's cash
As the women went up the street to join their waiting mother, the cyclist rode up and told her that her "kids need to learn some manners."
"If I was going to rob them I would have taken the money," he said.
Police have today released CCTV images of attempted robbery as they try to track the man down.
The suspect is described as a white man, approximately 5ft 8inches tall. He was wearing a distinctive blue and white, knitted Alpine hat with strings hanging down from its earpieces. He was also wearing a black jacket. He was riding and red and black bicycle.
If you know the identity of the cyclist in these images please contact Sutton Police station on 101 quoting ref no: 4005406/13. Alternatively, you can call Crimestoppers anonymously on 0800 555 111.