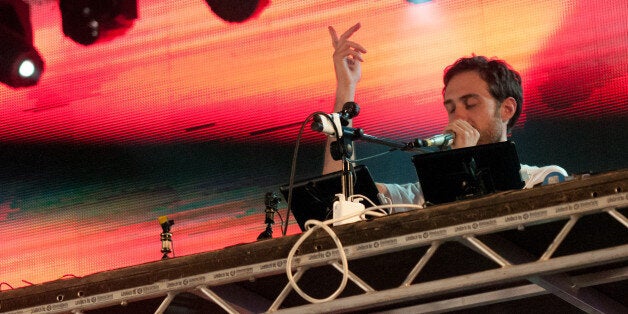 Pioneering technical noisenik Beardyman (of TED talk fame) has revealed the anthem of this year's Campus Party conference - and it's a psychedelic soundscape totally fitting for Europe's biggest technology festival.
'Sounds of the 21st Century' is described as a "symphony of noise" in Campus Party sponsor O2/Telefonica's press materials. And that does about sum it up. By blending technological tones with sounds of everyday life, it manages to resonate with our modern digital world while also being a damn funky tune, in a quiet, terrifying sort of way.
He will play the track at Campus Party's opening ceremony at the O2 on 2 September. The festival is described as a "digital skills marketplace" (aka Glastonbury for techies) and will feature 8 stages, over 100 speakers and over 500 hours of content over five days.
Beardyman said that he wanted to make a tune out of the "digital jitter" lying underneath our daily lives:
"Our lives now exist as much online as offline, and all of the 21st century's most significant innovations essentially make no noise and have few if any moving parts. So making a tune out of digital jitter at the bottom of the signal and the sound of fingers tapping on screens and mobiles sounded like an interesting tongue-in-cheek way of making a soundtrack to our digital lives.

"Technology is the only way to emancipate yourself. I've been working on my own tech I use to record and play live for about 6 years now. Now I have a system which is unrivalled in its ability to make music live, I'm bringing this to Campus Party to help showcase this track – it is going to go off!"
Check out the video for the track, below.