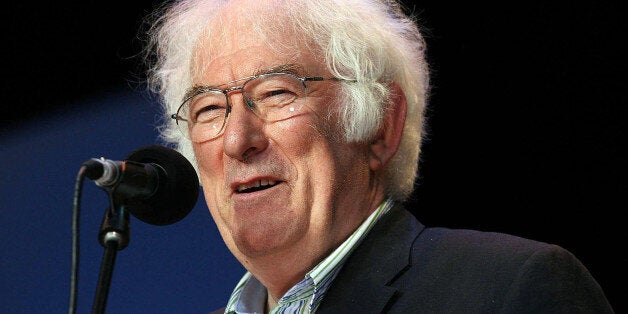 World-renowned poet Seamus Heaney has died, his family have confirmed.
The Nobel Laureate, who was 74, had been in hospital after suffering a short illness, they said.
"The death has taken place of Seamus Heaney. The poet and Nobel Laureate died in hospital in Dublin this morning after a short illness," a statement on behalf of the family said. The family has requested privacy at this time."
Heaney is survived by his wife, Marie, and children, Christopher, Michael and Catherine Ann. Funeral arrangements are to be announced later.
The Nobel prize-winner was born in April 1939, the eldest of nine children, on a small farm called Mossbawn near Bellaghy in Co Derry, Northern Ireland, and his upbringing often played out in the poetry he wrote in later years.
He was educated at St Columb's College, Derry, a Catholic boarding school, and later at Queen's University Belfast, before making his home in Dublin, with periods of teaching in the US.
Heaney was an honorary fellow at Trinity College Dublin and last year was bestowed with the Seamus Heaney Professorship in Irish Writing at the university, which he described as a great honour.
His world renowned poetry first came to public attention in the mid-1960s with his first major collection, Death Of A Naturalist, published in 1966.
As the Troubles took hold later that decade, his experiences were seen through the darkened mood of his work.
Ireland's Arts Minister, Jimmy Deenihan, praised Heaney for his work as a literary great but also for promoting Ireland.
"He was just a very humble, modest man. He was very accessible," he said.
"Anywhere I have ever travelled in the world and you mention poetry and literature and the name of Seamus Heaney comes up immediately."
Mr Deenihan recently joined Heaney at an event at the Irish Embassy in Paris where the poet gave readings to an audience of 1,000 invited guests.
"He was a huge figure internationally, a great ambassador for literature obviously, but also for Ireland," the minister said.
Heaney donated his personal literary notes to the National Library of Ireland in December 2011, joining the ranks of Irish literary master James Joyce and fellow Nobel winner WB Yeats.
During his literary career he held prestigious posts at Oxford University and at Harvard in the US.
Patsy McGlone, SDLP MP for Mid-Ulster, the area of Heaney's birthplace, said he has left a tremendous cultural legacy to south Derry but also to the literary world.
"Seamus Heaney was the voice of this community, a man of the people who knew his community well and reflected the history and cultural richness of that community," he said.
"I remember him calling in to my father's business when I was younger and being struck by his humility."
Ulster Unionist leader Mike Nesbitt described Heaney as a man of global significance.
"His influence ran broader than the arts. We all remember how US president Bill Clinton chose Heaney's great phrase about when 'hope and history rhyme' from Heaney's play The Cure At Troy in his speech in Londonderry, and went on to use it for the title of his book detailing his vision of the US in the 21st Century," he said.