The government will not try again to persuade MPs to support military action against Syria, two senior Cabinet ministers have said.
Chancellor George Osborne insisted "Parliament has spoken", while foreign secretary William Hague said there was no "immediate possibility" of circumstances changing enough to secure support from Parliament.
Their comments came as an opinion poll revealed an overwhelming number of Britons were opposed to military strikes on President Assad's regime.
MP admits 'industrial language' in foul-mouthed spat with Michael Gove
Just 19% supported British military action, the Mail on Sunday found.
Among those 19% is Tony Blair - the former Prime Minister renewed his call for intervention, saying the Commons vote that defeated the government was "shocking".
In an article for the Sunday Times, he said: "Chemical weapons are used against innocent civilians, including children, and our response is apparently: best do nothing.
"So, America, with the support of France and the Arab League, will act. We will stay on the side-lines."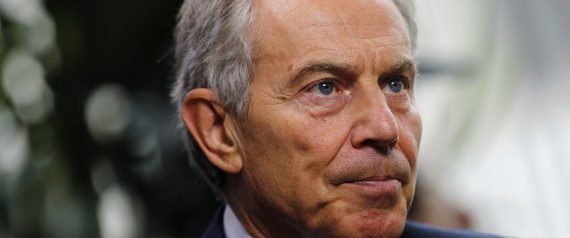 Blair is pushing for military action in Syria
Blair said he could understand the vote, and that it was right the Iraq invasion gave people "pause for thought".
But if "we had got rid of Saddam" without the subsequent bloodshed in Iraq, Blair claimed, "we wouldn't be having this discussion".
He wrote: "At some point we will realise this is one battle, it is crucial to our security and we have to take sides."
But despite Blair's wishes, British involvement looks distant after Osborne and Hague's comments on Sunday morning.
Osborne said: ""The Conservative MPs, and there were Liberal Democrats, who couldn't support us, they have a deep scepticism about military involvement and I don't think another UN report, or whatever, would make the difference.
"Of course I wanted us to be part of a potential military response. Now that is just not going to be open to us now because the House of Commons has spoken."
Hague told Murnaghan on Sky News: "I don't think it's realistic to think that we can go back to parliament every week with the same question having received no for an answer.
"I think anybody looking at this objectively would see that in order for Parliament, in any circumstances, to come to a different conclusion then people would have to be more persuaded by the evidence and there is a great deal of evidence there. But I'm not sure that the extra evidence that the United States presented would have made a difference to those doubting the evidence in the House of Commons."
Meanwhile, Hague's Labour shadow, Douglas Alexander, said Labour was not ruling out military intervention, saying this had been done by Cameron.
He told BBC 1's Andrew Marr Show: "I was intrigued by the statement the Prime Minister made on Thursday evening because if you were in a scenario, for example, where al Qaida or their affiliates got possession of very large stocks of chemical weapons, that would strike me as a very significant change but the Prime Minister has given his word now to the British people that the UK will not be participating."